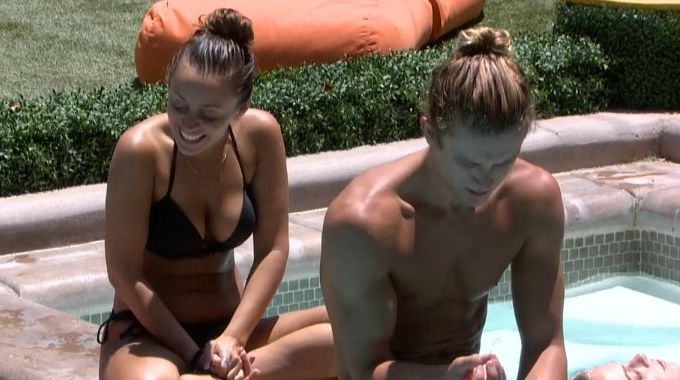 Sunday brought us a bonus Veto Ceremony on Big Brother 20 thanks to the first week's adjusted schedule. HGs gathered and had the final nominees of the week settled so they could soon get back to their divided house ways and focus on who would be evicted this week. The debate on that front continues along with a few showmance challenges in the mix.
If you've got the Live Feeds (Free Trial) then you can watch all of these moments with the Flashback feature to go back and watch those important conversations or funny scenes you may have missed.
Big Brother 20 Live Feed Highlights – Sunday, July 1, 2018:
8:00 AM BBT – Lights come on. Steve gets up.

9:20 AM BBT – Steve helped RoboSam outside. They talk about the Veto. Steve thinks Faysal should use it on him since he picked Faysal with HG Choice. He's hoping Tyler would consider a renom.

10:10 AM BBT – Kaitlyn and Bayleigh discuss the danger of Haleigh feeling jilted and turns sides against them.

10:40 AM BBT – Angie and Haleigh whisper about Kaitlyn. Haleigh thinks Kaitlyn is mad at her over Faysal, but she (Kaitlyn) has a boyfriend back home so they don't think she should be upset with Haleigh flirting with Faysal.

10:45 AM BBT – Faysal has misplaced the Veto medallion. He's been keeping it on or around him for a few days and now he can't find it.

11:20 AM BBT – Steve asks Winston if he has his vote to stay. Winston promises him he does (he doesn't really) and leaves. Steve is surprised by how easy that was.

11:22 AM BBT – Sam is back as RoboSam is done for the time being.

11:45 AM BBT – Rachel advises Sam to be friendlier with Kaitlyn and Haleigh more today to help her game.

12:20 PM BBT – Faysal gets another Hamazon Delivery. He's upset and wants them to stop already.

12:45 PM BBT – Chris heads upstairs to the HOH room to talk about Swaggy. He explains his plan to Feedsters and says he's going to try the HGs in to keeping up until Jury then when it's too late he'll start winning everything while trading off with Bayleigh and Faysal. Seems pretty foolproof to me! He's worried about Haleigh flirting too much. Chris feels good that no one knows about him and Bayleigh yet (not correct).

1:10 PM BBT – Faysal talking with Bayleigh about Kaitlyn acting strangely with him.

1:20 PM BBT – Faysal tells Bayleigh that he'd nominate Rachel+Winston, Angela+Winston, or Angel+Rachel if he wins HOH next week.

1:44 PM BBT – Feeds cut for the Veto meeting.

2:55 PM BBT – Feeds return. Faysal did not use the Veto. Noms remain Sam & Steve.

3:00 PM BBT – Steve tells Faysal he's okay with his decision to not save him and he thinks that was the right thing to do.

3:05 PM BBT – Sam talks with Tyler about her special power and says she really wants to keep it if she can. Sam wants people to keep thinking JC has the power.

3:10 PM BBT – Tyler is sure Angie is definitely voting against Sam and thinks Haleigh probably will too, but she can try to work on her.

3:11 PM BBT – Sam notes that Kaitlyn talked to her like she was a pet dog and promises not to forget that.

3:55 PM BBT – Swaggy tells Angie that Tyler definitely made the wrong move with his nominations.

4:20 PM BBT – JC and Angela talking game. JC isn't impressed with Tyler and considers him a weak player.

4:25 PM BBT – Winston joins JC and Angela. They're going through the votes. JC thinks they have a solid six, but obviously still need the 7th.

4:35 PM BBT – JC left. Winston and Angela say they like JC, but don't want to tell him too much because he talks a lot.

5:05 PM BBT – Faysal speculates Sam will quit the game this week when she realizes she doesn't have the votes.

5:50 PM BBT – Swaggy talks with Bayleigh and mentions Kaitlyn not knowing about their showmance. Bayleigh disagrees and says Kaitlyn knows because they sleep in the same room.

6:25 PM BBT – Angela questions if they can really trust JC. Brett thinks they can definitely use him on their side.

7:51 PM BBT – Tyler thinking about what he needs to do and how he needs to act next week when he's finally not HOH any longer.

8:30 PM BBT – Angela says the next HOH should nominate Faysal and Bayleigh and then backdoor Swaggy.

8:35 PM BBT – Tyler says the plan is to save Sam this week and make sure Steve gets voted out.

8:57 PM BBT – Tyler tells Haleigh that he think Brett has a thing for her. She says she thinks he likes Rachel.

10:00 PM BBT – Angie is really feeling bad for Sam and Tyler is playing into that as he continues to work on saving her this week. Talk turns to how they could use Scottie on their side if they get rid of Steve.

10:05 PM BBT – Winston and Brett making plans for next week like one of them has already won HOH. They talk about getting Swaggy out by a backdoor. If they can't get Swaggy, then Faysal will be their backup target.

11:00 PM BBT – Chris and Faysal discuss girl problems. Swaggy explains that according to Angie, Haleigh won't get near Faysal because Kaitlyn likes him and is territorial, but Faysal says he's not interested in Kaitlyn as more than friends.

11:20 PM BBT – Faysal says he'll start ignoring Haleigh to get her to like him more. Chris says that's what he did with Bayleigh and now she's his girlfriend.

11:30 PM BBT – Swaggy tells Faysal he plans to nominate Winston because he's starting stories about him and Bayleigh.

11:35 PM BBT – Swaggy warns Faysal the vote could be 8-5 or 7-6. Faysal doesn't think the other side will vote to keep Sam, but Swaggy does. They know JC could go either way on the votes.

11:40 PM BBT – Faysal goes to Haleigh and lets her know that Kaitlyn is just a friend to him and he has no feelings for her. Haleigh says she doesn't want to discuss it. Faysal says he'll talk with Kaitlyn, but Haleigh says there's no reason to do that. She says if they're a group of five then the two of them becoming a couple is a bad idea.

11:50 PM BBT – Faysal continues to try with Haleigh and says this cast was put together for a reason. They're all there to win the money, but if he is falling for her then he should let it happen. Haleigh continues to deflect and says they'll be out of the game in a few months. She says to wait 40-50 days and see how he feels, but he thinks that's too long. Faysal tells Haleigh he can't wait to take her out after the season.

12:25 AM BBT – Swaggy and Faysal are trying to figure out a way to get more airtime. SC wants to win the next Veto so he can be on the show more.

1:15 AM BBT – Bayleigh and SC discuss the Haleigh and Faysal situation. They think Haleigh is trying to make sure she's good with all the guys and will just go to the HOH room of whichever guy gets the power that week.

1:30 AM BBT – SC tells Bayleigh that he quit college one semester shy of finishing and prefers reading books to taking classes. They start discussing Bayleigh's past romantic relationships and how every guys she's dated has wanted her back.

2:00 AM BBT – Bayleigh and SC are still chatting about relationships in the hammock. Sam is slowly falling asleep on the backyard couches. Faysal is wandering around and getting ready for a shower. Everyone else is asleep.

3:55 AM BBT – Bayleigh and SC have finally gone to bed for a makeout session. Meanwhile, Steve and Faysal are still awake and chatting on the backyard couches about life in general.

4:25 AM BBT – Everyone but Faysal is asleep in bed. Faysal is outside rolling balls around on the pool table. Tyler pokes his head out to check on him. Sounds like Faysal is waiting on a visit to DR.
Faysal and Swaggy need to get their focus back on the game here or it could cause them some trouble. I'm impressed by Haleigh deflecting away a situation that could make her a couple in a group of five leading to an outnumbered position, but if others see her floating to whichever guy has control then that could be worse for her game.
There is plenty more debate on this Sam vs Steve vote situation and Tyler is going to keep working on that Angie vote. If it doesn't work out then hang on to your hats as we await Sam's use of her Bonus Life power app.
You can watch all of these Big Brother events using the archives Flashback, the DVR-like feature of this year's Live Feeds which means it's always live, even when you missed it! Sign-up now to get the free trial to watch it all live & uncensored.


Gallery: Live Feeds Highlights
click images to see full-size