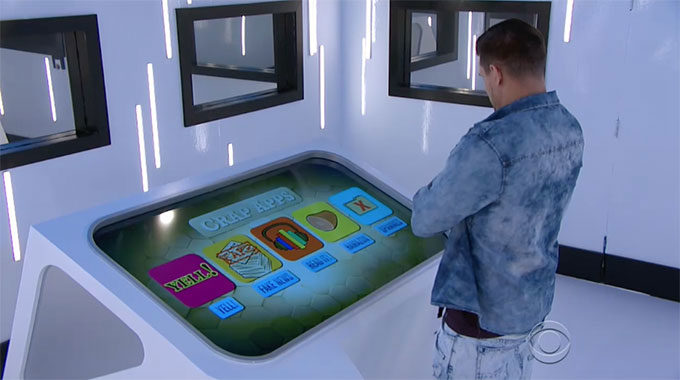 Our first Sunday episode of Big Brother 20 has come and gone, and it was basically one to catch us up on everything that has gone down in the house since they moved in over a week ago.
We've got alliances, budding showmances, punishments, a dead grandfather in the form of a ghost and the BB App Store power that MIGHT or MIGHT NOT guarantee someone's safety if evicted.
The episode picks up after Tyler nominated Steve and Sam for eviction. Everyone thinks Tyler made a weak move, and Tyler feels really bad for going with those easy nominations. He's so upset that he actually goes to the back yard and cries. He pretends that it's fake to us in the Diary Room. I don't think it's fake, but you do you, Tyler.
After nominations, Robot Sam holds court in the storage room, and one by one people drop by to talk to her. And Kaitlyn proves she's not a very nice person as she comes in without an ounce of compassion and starts say stuff that would upset anyone. I'd hate to have her as a life coach. Basically she gets upset that Sam doesn't feel like being condescended by her because she's a FREAKING ROBOT and shuts down her terrible attitude, but then Sam gets blamed for being aggressive. Kaitlyn's aura was definitely a rich poop brown at that moment.
Elsewhere, we've got a showmance blossoming. And it's between Bayleigh, Swaggy C and Chris (those were basically her words). But she seems to like the softer Chris half of Swaggy C the most. She even tells him she does not like his nickname. This might be the first showmance in Big Brother history that doesn't annoy me. Yet, anyway.
Then we get a montage of Kaycee's punishment to make us think that it's even half as bad as Sam's punishment. But it's not. These are the most unfairly balanced punishments ever. This punishment has Sam really depressed and feeling like an outsider and she's not getting to form alliances or work to save herself from the block. This is just the worst.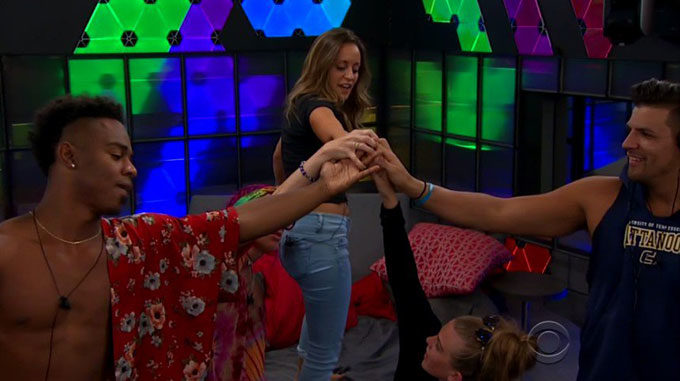 So we've covered the showmance and the punishments, but what about the alliances? Are there here yet? Yes, they have already formed. First up we've got Level 6, consisting of Angela, Winston, Brett, Rachel, Tyler and Kaycee. I think a better name would be Prom Committee or Student Council. But whatever. It's just a very cocky alliance right out of the gate. "You're looking at the final six right here," either Brett or Winston said. At this point they're the same person so I didn't rewind to see which bro it was.
There's another big-ish alliance, too. It's Kaitlyn, Angie, Swaggy, Hayleigh and Faysal. And Kaitlyn came up with some stupid alliance name that I'm never going to use because I don't even know how to spell it and I don't like Kaitlyn or her grandfather that later showed up in the back yard as a dove.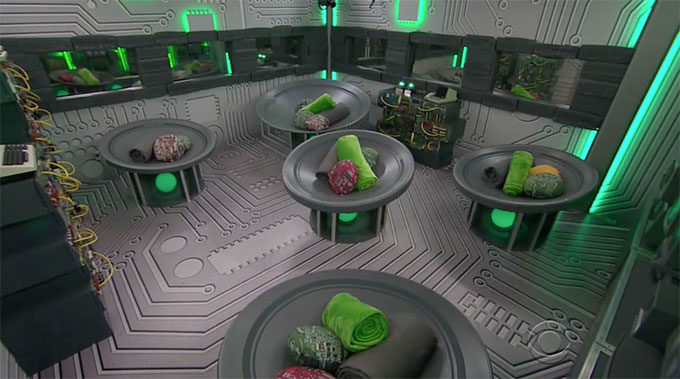 Oh, I almost forgot. We've also got some slop! They houseguests enter to find slop and that there's now a Have-Not room! After Tyler picks Kaitlyn, Brett, Winston and Scott to be have-nots (after they volunteered), they all run to checkout the room. It looks kind of uncomfortable but we've seen worse.
Now we finally get to find out all about the BB App Store! The HGs get an announcement telling them all about the latest twist. They learn that the top-trending HGs of the season will get to pick a power while the least-trending HG will get a punishment. Every week.
The HGs start heading to the BB App Store one by one. Brett is up first. Brett is not the top or least-trending Houseguest. Kaitlyn is up next. And she too is denied (hehe). So is Bayleigh and Scottie. Steve is up next and he does not get the power either. Faysal heads up and learns he is the least trending and gets the Crap App. He picks "Hamazon." He will have to eat ham every time it's delivered to him.
Angela, Angie, Winston, Kaycee, Tyler, JC and Swaggy C are also all denied. And then it's Sam's turn to head to the App Store. Sam places her name on the screen and "Access Granted" pops up! She finds out that she is the top-trending HG and she she picks "Bonus Life." She learns that this gives her the the "chance" to return to the game if she is evicted within the first three weeks. There's already a lot of debate online about whether or not this is a sure-thing or if it's something she has to compete for since the word "chance" is there and in all caps.
I'm hoping it's a sure thing, because Sam hasn't gotten a chance to play the game because of that punishment. I think she needs a fair shot.
What did you think of tonight's episode of Big Brother 20? Are you happy Sam got the Bonus Life power?