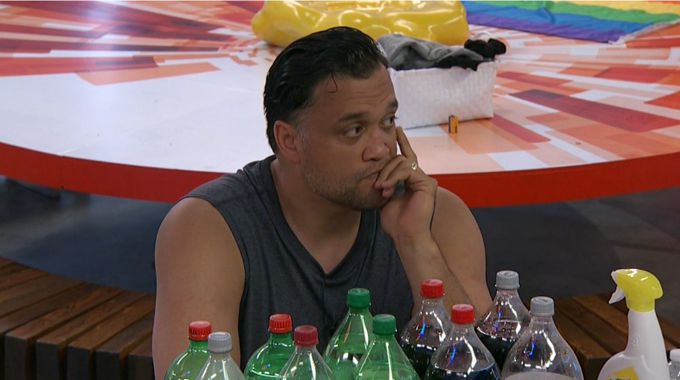 Missed the latest events from this weekend's spoilers on Big Brother 20? We've got your roundup on all the latest results from the Feeds to keep you well ahead of the next Big Brother episode.
Since this was our first weekend of Feeds the schedule was a little off, but we'll be on our regular routine soon enough. In the meantime, catch up on what happened in the last few days and how that sets us up for this week's eviction on BB20.
Big Brother 20 Spoilers – Weekend 1 Roundup:
Power of Veto Comp:
Feeds were down for more than three hours on Friday as HGs competed for the chance to change up Tyler's nominations. Steve drew HG Choice and went with his ally Faysal. Also selected to play was Swaggy and Scottie. That draw lined up nicely for Steve's side of the house.
The competition theme sounds like it was a Fear Factor style with snakes, tasting things, and even some sort of shock pads. Should be fun to watch on Wednesday's episode.
Faysal pulled off the win but soon faced a tough decision with the PoV.
Power of Veto Comp:
Usually, we'll get the Veto meeting on Monday afternoons, but this week it was on Sunday. Several HGs had big plans for what Faysal would do, but the choice was his. Neither Steve nor Sam are considered very high-value targets in the game by most of the house, but Faysal knew if he took down Steve then Bayleigh would go up on the Block. With that in mind, Faysal's choice was easy.
Our final noms for the week are set as Sam and Steve with one of them set to be voted out on Thursday. Then again, there's that whole Bonus Life app in Sam's back pocket and considering the votes against her are outweighing her support to stay, I think we'll see it put to use.
That should catch you up on everything from over the weekend. Next stop is Thursday's eviction and nothing else in between.
What do you think of this weekend's Big Brother spoilers? Are you happy with the results or did you want someone else to pull off the wins? If you have our Big Brother App then you received alert notifications as these results arrived. If you don't have it, then be sure to download our app now!