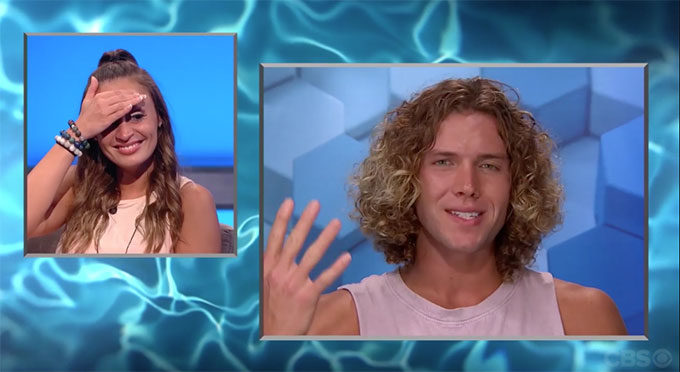 As we saw on Big Brother 20 Thursday night, Kaitlyn was evicted and failed the seemingly very easy challenge to win her spot back in the house. The show producers were so thrown for a loop that she didn't win that competition designed for the densest of persons to win, they ran out of time for her interview with Julie Chen.
Luckily, that posted to the CBS website and we've got the details for you here.
"I'm sitting here for a reason and I'm so glad it worked out that way." Kaitlyn told Julie, implying that this was all for the greater good and that someone outside the house needs her.
When asked if Fessy made a bad move this week, she says she can't say that it was bad because that's what his intuition told him to do.
And the question everyone has been asking her since she made the move: Does she regret backdooring Swaggy C?
"Do I regret it? No I don't," she said. "Do I feel terrible about it, yeah? But he was the only one who gave him a reason."
Julie also asked her about Sam's harsh words at the nomination ceremony.
"Bless her heart. I think she is an amazing person, but at the end of the day, this game is about a game," Kaitlyn said. "And for her to make it personal … I pray that she can be enlightened in a different way because I would never speak to another woman like that."
Julie spills some more secrets to Kaitlyn as she has her guess who the two votes to keep Brett were last week. After naming a few other names she finally says JC and Tyler and Julie tells her that's correct. But Kaitlyn admits she's still rooting for Tyler and says that if a girl doesn't win this season she hopes it's Tyler who does.
"I love them all," Kaityln says.  "And no hard feelings at all."
At the end of the interview, Julie plays Kaitlyn some goodbye messages. Tyler tells her that she was great for his game but also awful for his game, but it's really a good message, so she has no reason to be upset.
Check out the full interview below.