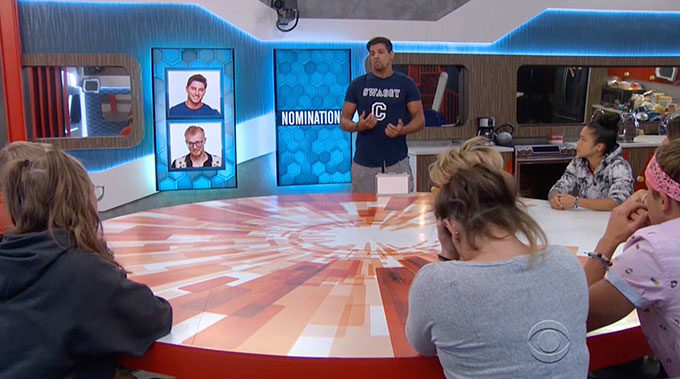 In a Big Brother 20 first, we have all the votes figured out the night before eviction and are absolutely certain who will be going home tonight.
Unfortunately for Scottie, he aligned with people who like to get their allies evicted, so he will most definitely be going home tonight. As we know, Faysal nominated Brett and Scottie this week. He nominated Scottie because he thinks he's been causing drama with votes and can't be trusted. Of course we know the real reason is because he's jealous of the relationship Scottie has with Haleigh. That's unfortunate for Faysal and Haleigh, because Scottie was their last true ally, and they're going to be sent home back-to-back if they're not in power, and maybe even if they are in power (as we witnessed this week).
As we saw Wednesday night, Brett won the Power of Veto. Scottie hasn't even bothered to campaign beyond his absurd pitch to Faysal to put Haleigh on the block as the replacement nominee. (Spoiler alert since the Wednesday episode didn't show the veto ceremony) Of course Faysal didn't nominate Haleigh. He nominated Kaycee. Scottie knows that he doesn't stand a chance with so few votes and Faysal being the one who would break a tie even if he could get the three votes he thinks he has (he doesn't even have those).
Instead of working to stay, Scottie is hoping that he can be the one to benefit from a Battle Back. No one knows if there will be any kind of returning player or reset week, but the numbers don't add up, so everyone — inside and outside the Big Brother house — is expecting something to make up for Kaitlyn's flopped chance to get back in the game.
So just for the sake of consistency, let's break down the votes.
Votes to evict Kaycee: None (Haleigh can't even give Scottie a pity vote because she's trying to secure herself in the game with the other side of the house).
Votes to evict Scottie: Angela, Tyler, Sam, Brett, Haleigh, JC. )It's possible we could see JC throw a vote out there for Scottie to frame Haleigh. He likes to play sneaky like that. He hasn't mentioned that at all, but I wouldn't be surprised.)
Who do you think will be evicted from the Big Brother house tonight?