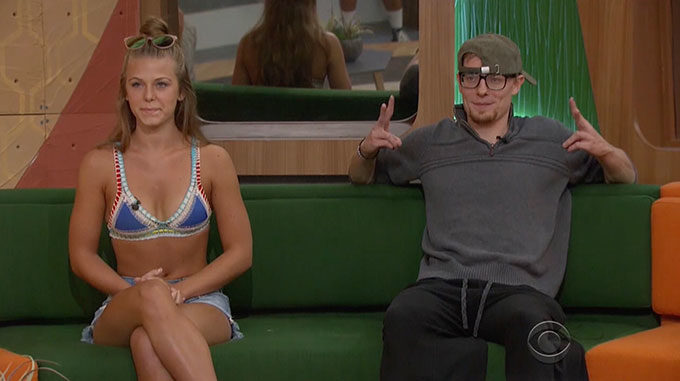 This week when Tyler won Head of Household and nominated Haleigh and Scottie, he said he didn't really care which of them left the Big Brother 20 house this week.
That stands true today, on eviction day. Tyler did have a slight preference of Haleigh going over Scottie since she admittedly targeted him as the Hacker and Tyler still trusted Scottie. But Tyler's alliance prefers Scottie head back to jury and after nominated Scottie, that damage is done, so Scottie's trust might be gone now anyway.
So as of now, it's still Scottie who will be heading out the door. And that's going to sting once again because he's not completely expecting it. Tyler told Scottie he as a pawn right after the nomination ceremony, and he seems to still believe it for the most part. Tyler, however, seems to not remember saying that to Scottie, and has spent the week telling Level 6 members and Haleigh that be did not actually say those words to Scottie. Tyler thinks he just really made Scottie "feel like he is a pawn."
JC is freaking out a bit here and there and that paired with Brett getting angry at Haleigh over a drunken prank actually sparked some talk about flipping the vote late last night. But I still don't think the vote will change. Too many people are convinced Haleigh will target Sam if she wins HOH, while they look at Scottie as a wild card. Who knows what he would do, they think.
But it won't be a unanimous vote. They need to further drive that wedge between Haleigh and Sam so they go after each other. Let's take a look at the expected vote breakdown.
Votes to Evict Haleigh: Sam
Votes to Evict Scottie: Brett, Angela, Kaycee, JC
So that's 4-1. Scottie heads back to jury and Haleigh will know that Sam was the only vote to evict her again for the second week in a row. There's a possibility that Sam could vote with the house and go for Scottie, but if that's the case JC could pin a vote on Sam.
Who do you think will be evicted from the Big Brother 20 house tonight?