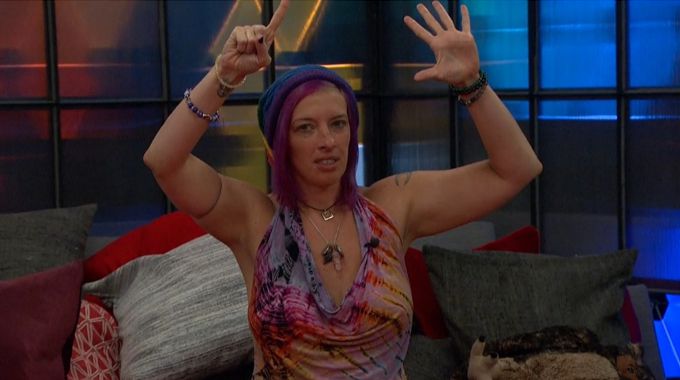 Heading toward the second eviction of Big Brother 20 we've got twelve votes in the mix and the odds are steep against this week's target to escape danger. But thankfully no one has given up and there are efforts afoot to change a few minds.
It's a faceoff between Swaggy and Winston as Kaitlyn hopes to pull off her Backdoor of her former alliance leader and so far it looks like she'll get her way.
With twelve votes there's a chance of a tie and Kaitlyn was actually semi-swayed the other night after Swaggy came to her with a good plea, but Tyler made quick work of shutting that down. I'll be surprised if Swaggy can break through Tyler's mist, so he'll need to focus on getting seven votes. Yikes.
Right now Swaggy feels he has five solid votes with Faysal, Angie, Haleigh, Bayleigh, and Scottie. After a good talk with Sam the other night he thinks he just might have that vote too. Of course with Sam, if you convince her enough she's also got that mighty Bonus Life in the works, but come on, she's not going to use it on Swaggy now instead of waiting to see if she needs it in the next two weeks.
Swaggy's other hope is JC. JC continues to act undecided to some of the HGs but he's made up his mind already. He's definitely voting out the BD target this week. Joining him will be Angela, Brett, Kaycee, Rachel, Sam, and Tyler. That gives Swaggy a total of 7 votes against him and he's done.
Things might not stop at seven either. Scottie seems to be humoring FOUTTE with talks of voting to keep Swaggy, but he's also told Tyler he'll vote along to send him out. No point in riding that sinking ship down. Speaking of, Faysal plans to do just that and said he's committed to voting to keep Swaggy. I expect Bayleigh and at least Angie will too.
I'm glad Swaggy hasn't given up though. It's such a bummer to see someone hide in bed for a few days, put on a fake happy smile, and walk out the door. You've gotta campaign and try to sway minds and that's what he's doing so kudos to him. I just don't see it happening, do you?
Vote in our eviction prediction poll below and share your thoughts on Swaggy's odds. Is there anyone he can flip this week or is he toast already?