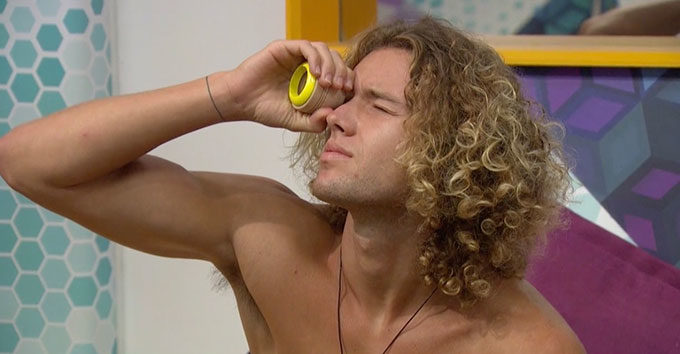 Swaggy C continued to work on rallying votes in the Big Brother 20 house, and despite Kaitlyn now legitimately wanting him to stay, Tyler isn't allowing it. Kaitlyn even told Tyler today that she feels like he isn't letting her control her own HOH, and that still didn't change anything. Read on for all the details.
If you've got the Live Feeds (Free Trial) then you can watch all of these moments with the Flashback feature to go back and watch those important conversations or funny scenes you may have missed.
Big Brother 20 Live Feed Highlights – Wednesday, July 11, 2018:
11:52 AM BBT – Rockstar tells Kaitlyn that she doesn't have a side unless you count Winston and Brett not talking to her and considers her expendable.

11:54 AM BBT – Rockstar says Swaggy said he'd never nominate Kailtyn if she stays this week and she really believes him. Kaitlyn says she believes him too. Rockstar says they should let Swaggy get to jury at least. She said they could get out Brett, Winston, Rachel and Angela and then they're at jury. She said that would also mean they'd be in jury with good people with those four gone.

12:03 PM BBT – Winston tells Kaitlyn that he trusted her this week so now she needs to trust him. She says then he needs to address what she heard he said about her. He tells her that he has never said that if he was HOH he would go after her. He said whoever said that completely made it up. Kaitlyn said what Winston did do is he and Brett told Scottie Kaitlyn would put him up. Winston said he and Brett never said that. She asks then how did Scottie know that because Scottie came to her and told her that. Winston says he knows that she hasn't trusted him since Day 2. He said he has never targeted her.

12:08 PM BBT – Winston tells Kaitlyn that his target right now is Scottie. He asks her is he even going to be here come Thursday. He said there's still a chance he could go this week, but if he stays he's got her back.

12:11 PM BBT – Brett is summoned to the HOH room by Kaitlyn and Winston. They want to talk about the Scottie stuff. Kaitlyn tells Brett what Scottie told her Brett and Winston said. Brett also says they did not tell Scottie that. Brett says he's never trusted Scottie so he would have never told him anything in confidence. Winston agrees and repeats that Scottie is his target.

12:14 PM BBT – Kaitlyn says she needs to talk to Tyler to warn him that he has to stop trusting Scottie. Winston says Scottie has always been friendly and is playing a good little social game but he's a snake and can't be trusted. Winston says they never should have taken Scottie off the block.

12:16 PM BBT – Swaggy is talking to Tyler and Scottie about his votes. He says he has five votes (Bay, Scottie, Faysal, Rockstar and Haleigh), so if he can get Tyler's vote, it'll be a tie and Kaitlny can break it in Swaggy's favor. He says that's not even considering if he can get JC or Sam's vote. He says that he knows at least one of the three (Tyler, JC, Sam) will give Swaggy that extra vote to tie. Tyler says he wasnts to have one-on-ones with Rockstar and Haleigh. Tyler said he just still doesn't trust Rockstar. Swaggy tells him not to worry about anything because he'll keep him safe if he stays. Tyler still won't give Swaggy a straight answer.

12:17 PM BBT – Kaitlyn tells Winston not to worry because he's not going home. She said she's going to have one-on-ones with everyone today to make sure they're all voting to evict Swaggy.

12:20 PM BBT – Swaggy tells Tyler that Winston hasn't won anything and hasn't almost won anything, so Winston promising people he will keep them safe means nothing. Swaggy says he can win stuff so he can actually protect people. He said if he stays he'll win the next HOH and prove it to them. Tyler said he'll have some conversations and then update Swaggy.

12:22 PM BBT – Swaggy leaves the room and Scottie tells Tyler that he legitimately wants to keep Swaggy and tells him that if Swaggy goes, Tyler could be the new target. And if Winston goes, Brett's shield is gone. He says Winston is a buffer that neither of them should want here. Scottie says it would be Brett vs. Swaggy if Winston goes and they can let that play out and go unscathed. Tyler comes back with some kind of defense that makes no sense, further proving he's never going to budge on sending Swaggy home.

1:40 PM BBT – Swaggy tells Kaitlyn that he doesn't want her to have to break a tie, so they need to get Tyler and JC or Sam. Tyler is sitting there just playing dumb. Swaggy thinks that if she tells JC to keep Swaggy he will do it.

1:49 PM BBT – Swaggy tells Kaitlyn and Tyler that he loves the game and wants to stay and will do anything. He leaves them to talk.

1:50 PM BBT – Tyler asks Kaitlyn how she's feeling. She tells him that Scottie made stuff up about Winston and Brett so she's annoyed with Scottie and doesn't trust him. Kaitlyn tells Tyler that she wants Swaggy to stay, but she knows Tyler won't vote to keep him. So she says she could try to get JC and Sam to vote for Swaggy to stay. She says Swaggy just really wants to be in the game and she hates to see him be sent out. Kaitlyn said Swaggy going home will make her look like the villain because everyone is going to be wearing Swaggy C shirts tomorrow.

1:54 PM BBT – Tyler said if they go back on this now, it would look really bad on them with the other side and they'd all come for them, meaning they could have both sides after them.

2:00 PM BBT – Kaitlyn tells Tyler she's upset that he won't let her make her own HOH decisions. She says she let him run his own HOH but he's not even entertaining her wishes to keep Swaggy. Tyler says if Swaggy goes, no one on Swaggy's side will blame her, but they'd blame him. She says so, what's the deal. He said because if Winston goes, then both sides will be coming after him. Kaitlyn says that's not true and wants to know why he thinks Swaggy's side would still come for him if he stayed.

2:20 PM BBT – Rockstar says Tyler has a one-on-one with Kaitlyn after every one of her one-one-one with others. She says he might as well just be in the room with them, making it a two-on-one.

2:23 PM BBT – Bayleigh and Rockstar say Sam and Brett have the powers. They think Brett had the first-week power and Sam has the most recent.

2:24 PM BBT – Haleigh tells Kaitlyn that Tyler told Swaggy he'd vote for him if he had the numbers, but Haleigh isn't voting for Swaggy. Haleigh said she doesn't want Tyler involved in any game take she and Kaitlyn have any longer.

2:25 PM BBT – Kaitlyn takes the topic to her new favorite one: Scottie. She tells Haleigh about the whole Scottie/Winston/Brett thing from earlier. That seems to be her main focus right now despite the looming Swaggy eviction.
So everyone is having the same conversation over and over, and while it looks like Swaggy has gained some steam, Tyler is seemingly always going to shut it down. There's still over 24 hours left for things to be turned around, but it's not looking good for him at the moment.
You can watch all of these Big Brother events using the archives Flashback, the DVR-like feature of this year's Live Feeds which means it's always live, even when you missed it! Sign-up now to get the free trial to watch it all live & uncensored.

Gallery: Live Feeds Highlights
click images to see full-size