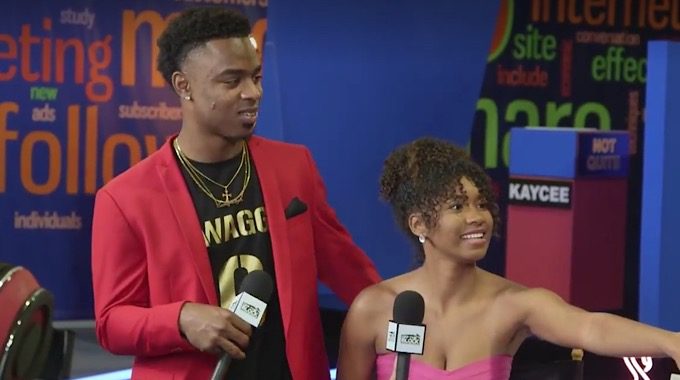 During Big Brother 20 we watched as Bayleigh and Swaggy C got really close really fast and became possibly the least liked showmance of the season. However, since Swaggy C stole the show by proposing to Bayleigh on national television during the Big Brother finale, the happy couple has made a very sad announcement.
During the post-finale interviews, Swaggy C talked to Ross and Marissa about how Bayleigh's parents knew for weeks about his plan to propose to Bayleigh. Bayleigh then talked about how her parents met on a blind date and fell in love within days of knowing each other. After this conversation, Ross and Marissa asked Bayleigh and Swaggy C about whether or not they are going to have babies. Bayleigh tells them that they can't comment on anything baby related, but they do want to have kids.
Two days after the Big Brother 20 finale, Swaggy C and Bayleigh made an announcement on their YouTube channel. Bayleigh starts the video off with telling everyone that she needs to get something off her chest. She adds that everyone has been asking her if she is pregnant and she will be the first to tell everyone that she is not. She continues to say that while in the house, she and Swaggy C shared some very intimate moments in the public eye and one of those moments resulted in a pregnancy. However, while in the Jury house, Bayleigh suffered a miscarriage and they aren't exactly sure why. She tells us that she was ecstatic when she found out she was pregnant, they both were and they were both extremely upset when they found out she lost it.
She also addresses the people who were saying that Swaggy C only proposed to her because she was pregnant. She says that Swaggy C knew about the miscarriage prior to his proposal so saying that he only asked her to marry him because she was pregnant was hurtful. I have included the full YouTube video below for anyone who would like to watch it.
Swaggy C also added his own opinion about the situation and tells everyone that going through the pregnancy news and miscarriage news with her made him realize how much he wants to marry her regardless of how short of a time they had together in the house. He tells us that he didn't propose to make her feel better or anything, he proposed because he loves her.
They end the video off with Swaggy C telling everyone watching that he is beyond proud of Bayleigh for how she has been handling everything and that he loves her. Since the announcement, the couple has been gushing over each other on Instagram. Posting plenty of pictures of themselves together and happy. If you would like to follow Swaggy C or Bayleigh on Instagram to follow their story, click the links in their names for their profiles.