Ready to find out who was voted out last night on Big Brother 19, who has the Halting Hex, and who wins the next Head of Household? Well, the last one didn't happen yesterday, but we've got all the rest of those answers for you.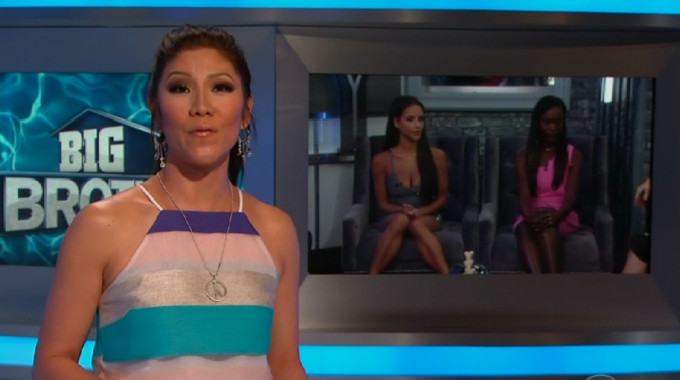 Dominique and Jessica faced off on the Block this week hoping to survive the vote and stay another week in the game, but if the Halting Hex, the last of the Den's Temptations, comes in to play then no one will be heading out the door.
Picking up after Wednesday's Veto show we've got some good drama from the HGs as things got headed just when I thought they sail quietly through the rest of the week. Pickle juice & hot sauce anyone? Let's see how that plays out in the episode.
Den of Temptation – Halting Hex:
The Halting Hex was given to… Jessica Graf!
Jessica can stop one of the next four evictions, but she has to announce the plan before the vote.
Are you surprised by the results? Who did you think would get it? Now we've got to see if she'll use it.
Gallery: Halting Hex Revealed
Time for the live eviction vote as ten Houseguests are heading in to the Diary Room to cast their vote and send one player out the door to join in the Battle Back episode on Friday night.
Jessica does not announce her intent to use the Hex on this week's eviction. That leaves 3 more chances to use it.
Big Brother 19 Results – Week 3 Votes:
Josh votes to evict: Dominique
Kevin votes to evict: Dominique
Mark votes to evict: Dominique
Christmas votes to evict: Dominique
Jason votes to evict: Dominique
Raven votes to evict: Dominique
That's enough votes.
Matthew votes to evict: Dominique
Elena votes to evict: Dominique
Paul votes to evict: Dominique
Ramses votes to evict: Dominique
By a vote of 10-0, Dominique Cooper has been evicted from Big Brother 19.
Julie brings out the first four evicted HGs out to the front stage. She asks each of them, one at a time, who they think came next. Jillian correctly guessed Cody, but the rest were wrong. If the evictees don't know who was out behind them then that suggests they weren't playing comps each week like last year. Sure enough, Julie says they're doing things differently this season.
Gallery: Battle Back Contenders
There's no Head of Household competition yet! Just like last year they're waiting until after the Battle Back competition(s) is over and will let that returning HG in on the fight to control the noms this week. We'll see the HoH comp play out on Sunday's episode (8/7c).
Remember: No Feeds again until Friday 9PM PT (12AM ET Saturday). Enjoy your night & day off!
We'll be back to watch the new Battle Back episode on Friday night at 8/7c with our live coverage at 8PM ET so join us for the fun then and see who gets sent back in to the game!
Want more? Download our free Big Brother App, join us on Facebook & Twitter, and get our Email Updates! We'll keep you updated with the latest news and our in-depth reviews of the season.