The first Power of Veto competition has come and gone for the Big Brother 19 Houseguests and now we're set up with an interesting situation for the current Head of Household, Cody. He's going to have to make a choice, but his list of options is shrinking and more so than he realizes.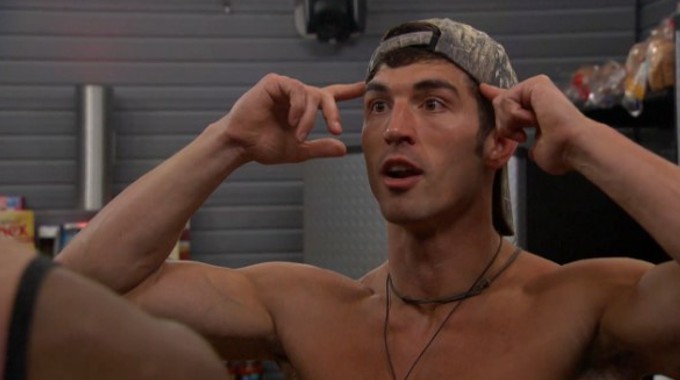 Cody's first pass at noms gave us Megan and Jillian, but that soon gave way to Alex and Jillian after Megan quit. Now it's about to change again after Alex's Veto win on Friday. Considering she was the big target this was a clutch win for her. Nicely done. So it's time for a new target.
You'd think with 15 HGs left in the game you'd have some decent choices to pick from, but when you start going down the list of actual options it's a really small pool of options. Here's who's in the line up.
Alex: safe with the Veto
Christmas: ally (Update: possible option)
Dominique: ally
Elena: ally + ally Mark's showmance
Jason: option, but Cody wants to make a deal
Jessica: ally + showmance
Jillian: already on the Block
Josh: safe with golden apple
Kevin: option
Mark: ally
Matthew: ally
Paul: safe w/ DoT, ally, former BD target
Ramses: option
Raven: ally + flirty w/ Matthew
So yeah, all those names and he's only got 3 options, but he thinks he has 4. Paul has the Pendant of Protection as the spoilers revealed (surprising no one), but Cody had suggested he'd go after Paul in the first episodes. By the time the Feeds came on they seemed to be buddies, enough so at least, and working together in that typical early season mega alliance. If Cody does try to take a swing at Paul it's going to be real fun to watch that play out since Paul isn't going anywhere for at least three evictions. No idea on the logistics of that power though so it'd be interesting to watch it happen.
The other three possibilities are Jason, Kevin, and Ramses. Jason seemed to be the top pick for the group, but then Cody told Mark he wanted to make a deal with Jason to keep the couples safe. Cody suggested he had another plan that he'd keep silent to safeguard Mark. Gotta consider he's thinking again about that Paul plan but that'd totally blow up in his face.
Next we've got Kevin, but I just don't see him going after Kevin. He's very well liked and I don't believe Cody considers Kevin a threat to his game, at least not at this point. I'd be surprised if he went for a Kevin renom, but it is one of his few viable options.
Lastly there's Ramses. Paul previously mentioned Ramses as one of the options around the time the group was discussing going for Jason. I've been wondering if Paul actually got to pick who would get the consequences end of his Den of Temptation prize. Maybe he assigned the punishment to Ramses because he already wanted him gone or Paul could be nervous that Ramses could find out Paul tagged him for the "serpent bite" and wants him out before he can seek revenge. Dunno, just a guess, and we'll find out on Sunday.
Now if Cody is wanting to make a deal with Jason then he's either looking at Kevin, Paul, or Ramses. Remove Paul since we know better and Cody is down to either Kevin or Ramses. In that case I'd expect Ramses to take the heat. What also could happen is the group finds out Cody isn't going to put up Jason like they wanted and they start to apply pressure leading Cody to give in. Yielding doesn't seem like something Cody would do, at least not if he's got his mind set on another HG.
Interesting situation with the ladies being off the list of options as they've either coupled with one of Cody's close allies, become a direct ally on their own, or been sent to the Block already. That's going to make things tricky before too long.
What do you think Cody should do and what do you think Cody will end up doing? Could he really be considering trying for a Paul renom? That'd be entertaining, but would Cody risk upsetting some of his allies by aiming within the group? Of course he's also risking upsetting them by plotting to make a deal with Jason instead of targeting him like the group suggested.
As for when the Veto Ceremony arrives, we don't know for sure. Usually it's on Monday afternoons, but usually the Veto comp is on Saturday and was held a day early. First week of Big Brother is goofy with all the extra time. Add in a holiday coming up and production may push things up to make for a long holiday stretch for some of the team. We may not know until it happens, but we'll have the spoilers for you as soon as the results are in.
Don't miss the next spoilers. Get our free Big Brother App for alert notifications sent straight to you.
Update: This afternoon Cody talked privately with Matt that he wants to offer Alex and Jason a deal to protect the couples and Dominique. He thinks that core group could get to the end. So that leaves Paul and Christmas on the outside, huh? We could be heading toward Cody trying to put Paul up and out. Still don't know if Paul can even be nominated or not, but either way he definitely can't be evicted if Cody tries.
And now Cody has pitched the deal to Alex and Jillian. He promised them safety till Jury and will make the same offer to another HG (Jason, presumably). After Cody left Alex was clearly not impressed and told Jillian she'd still go after Cody & Jessica next week.
twitter-tweet" data-lang="en">

Cody tells Alex & Jillian that he wants to make them an awesome deal. He'll protect them all the way to Jury & will be loyal to Alex. #BB19 pic.twitter.com/GPeHGir5bV

— Big Brother Network (@bigbrothernet) July 1, 2017
Update 2: More deals being offered. Cody tells Ramses he'll keep him safe if Ramses keeps Cody's close allies safe next week. Ramses agrees. Later after Ramses is leaving he whispers to himself that he's still going to put up Cody next week if he can.
twitter-tweet" data-lang="en">

Cody tells Ramses that if he will protect Cody's close allies then he'll be safe. Ramses agrees. Cody tells R to keep on keeping on. #BB19 pic.twitter.com/5YnKxc6D0I

— Big Brother Network (@bigbrothernet) July 1, 2017
So who is it going to be? I suppose Christmas isn't safe along with Paul if Cody wants to protect the couples & Dominique. Will he try for either Paul or Christmas? We still haven't seen him back a deal offer to Jason, but Cody said yesterday that he would. But why oh why would Cody risk splitting up an alliance and upsetting alliance in exchange for a week of safety with Ramses, for example? Odd plan.