The Veto meeting is coming up later today and we've been watching some interesting back and forth "will she or won't she" moments this weekend that could keep us waiting until it's over and the nominations are set for Week 4 of Big Brother 19.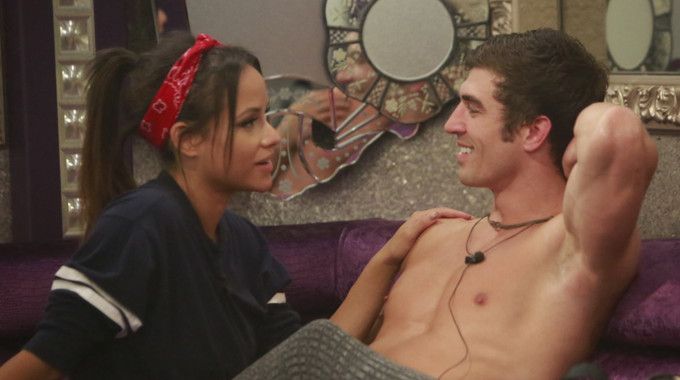 So here's the background of the situation. Jessica, the current HoH, wants Josh out and put Ramses up as a pawn. While the house has been promising Jessica they'd vote out Josh, several of the Houseguests including Paul, Christmas, etc., have been working behind the scenes to make sure it's Ramses going instead. Now here comes Jessica's chance to thwart that plan, if she discovers it in time.
Jessica ended up winning the Veto on Saturday which means neither Ramses nor Josh can save themselves from the Block and if Jessica keeps feeling good about this VTE-Josh plan then things will stay just as they are. Sunday evening on the Big Brother Feeds there started to be a few growing concerns for both Jessica and Ramses.
Flashback on your Live Feeds (get the Free Trial now to watch) to 5:41 PM BBT 7/23 Cams 3/4.
Ramses is talking with Elena and says he's most concerned about the votes from her, Mark, and Cody. He's mumbling a little to keep the volume low, so maybe he said he's least concerned about their votes. Really, those are the only votes he appears to have right now. Elena promises Ramses he'll get their three votes and says the rest of the house will follow suit.
Gallery: Ramses Talks With Elena
Jump forward to 6:22 PM BBT Cams 3/4 to find Ramses talking with Jessica. He's expressing concerns over staying on the Block against Josh. Jessica says if she gets concerned then she has a backup plan and will take him off, but she hasn't heard anything so doesn't plan to do that. Well, Jessica hasn't heard anything for a couple of reasons. 1) She's being lied to by Paul and company. 2) Paul and company are lying to Elena and Mark so Elena doesn't realize she's passing along bad info. Oops.
Ramses continues to press Jessica saying that he got those three votes last week and he was likely to be put up on the Block this week by the other side as the Plan B while she was Plan A, so it seems risky. Jessica says she'll make her rounds and check with everyone, but she appreciates his trust and doesn't want to ruin his game.
Ramses isn't giving up. He points out that if he's off the Block then he's a sure thing vote against Josh to go. It's a good argument, but he needs to offer up an alternative who isn't such a sure thing, because right now Jessica thinks everyone wants Josh out.
Move forward to 6:37 PM BBT Cams 1/2 as Jessica has settled in with Cody to discuss the situation. She's nervous and worries the others might be working to keep Josh calm until it's too late and then they'll be blindsided. (That is the plan.) She's thinking of taking down Ramses and renom'ing Alex. (She should if she wants Josh out.)
Gallery: Jessica Talks With Ramses & Cody
Cody isn't worried. He thinks everyone wants Josh out, but Jessica corrects him that the other side doesn't mind him. She thinks there's a good chance the vote will flip and Ramses will go. Jessica likes Ramses's offer that if he comes down then he's a definite vote against Josh. Here comes some bad advice from Cody.
Cody tells Jessica that he wants her to keep things the same and there's nothing to be gained by flip flopping around on her nominations. He wants them to just sit back and let the week take over. Jessica doesn't want to look back and see her HoH week was a waste. (Could Cody secretly want Josh to stay to go after Mark like he secretly wanted Alex to stay? No way, right?)
Jessica isn't worried about Ramses like Cody, who says he doesn't trust Ramses. Jessica suggests she could put up two HGs that she'd be happy either way with who left. Yes, yes that's exactly what you do, Jessica. Sheesh. Come on!
The debates don't stop here. We've got the full rundown in our Sunday Feed Highlights Report, but the summary is that there were a lot of talks through the rest of the night. A lot of them. Mark and Elena continue to reinforce the false notion that Josh will go and that makes Jessica and Cody more confident that Ramses will stay.
By the end of the night Jessica and Cody settled back to keeping the noms the same with Ramses and Josh on the Block. They expect Josh to be evicted and if that vote were held this afternoon then they'd be disappointed. Ramses will be voted out and the house will have flipped the plan on Cody and Jessica yet again. The great potential here is that they could get their revenge the following week by using Jessica's Halting Hex should the two of them be sent to the Block. What a great round of drama and surprises for both sides of the house.
We'll be watching for the Veto Ceremony later this afternoon and will have the spoiler results then. What do you think of Jessica's Veto plan? Which way do you hope she'll decide to go today?
Get the results when they're announced. Grab our Big Brother App and we'll send you an alert when the spoilers are in. Join us on Facebook, Twitter, and by Email Updates to get more results all season.