CBS has managed to spoil their own twist thanks to their website code revealing the upcoming Den of Temptation twists set to follow this week's Pendant of Protection, and there's no shortage of alliteration to go with them.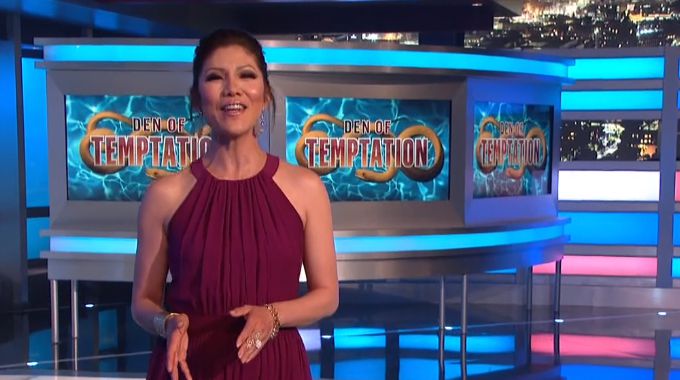 As reported by Reddit, fans can go straight to CBS's voting page for the Temptations this season, pull up the page's source code, and scroll down to find the next two temptations detailed out. Those are some nice, spoon fed Big Brother spoilers! Here's what the remaining eligible Houseguests will have up for grabs.
Den Of Temptation Spoilers:
First up we've got the "Ring of Replacement":
The winning houseguest will be tempted with the Ring of Replacement, which will give them the power to play in any Veto Competition they want this summer! If they're not one of the six houseguests playing, they can swap places with one of the three players chosen by random draw. The Ring of Replacement can only be used once, but remember, every temptation comes with a consequence.
So a one-time Veto "pass" that gets them a seat in the game. That's pretty cool and especially cool that it's not a 7th player but rather a replacement that you can cherry pick. This could be major for a Backdoor plan if they play it right. And heck, there's no expiration on it either? Wow. You can lie in wait until the time is right. It'd only be better if you could transfer its power in case you get picked to play the week you want to BD your target.
Next temptation is the "Halting Hex":
The winning houseguest will be tempted with the Halting Hex! Whether on the block or not, they can halt any one of the next four evictions during the live show, making it a non-eviction night. But remember, every temptation comes with a consequence.
Okay, the last one seemed strong but this is serious. It's the front door alarm gimmick here. No one gets evicted the night you play it right in the middle of the live show. That's craziness! Julie's out there with her cards ready to chat away and then nothing! You get to save someone and ruin Julie's plans? I'd be afraid of the fallout for that move! I'm kidding, of course, but probably have to spell that out.
These are much stronger temptation twists than I would have guessed. We've seen enough Slop Pass handouts over the year to limit my expectations so this is nice and I'm interested to see where they go from here. So far we only know the first 3 temptations and unless the twist flops like in past seasons then I'd expect this to go a little longer than that.
What's your take on the Den of Temptation offerings? If we're assuming Paul gets this first Pendant with 3 rounds of safety then who do you want to see get the next two powers? Share your thoughts below.