Big Brother 19 spoilers are already arriving and the season premiere hasn't even hit yet! Of course that means we're getting inside details from the top of the Big Brother chain with executive producers Allison Grodner and Rich Meehan as revealed to THR.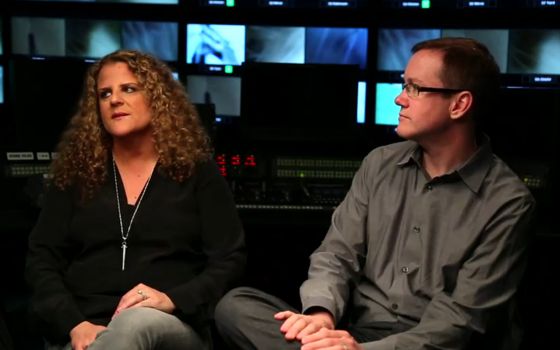 THR sat down with the EP's and got them to open up about what's been going on inside the house in its first week. Yes, HGs moved in last week and we'll be watching just a small portion of the backlog of events since then in tonight's episode.
When asked who had taken an early lead in the competition Grodner said she'd give that point to Megan Lowder. Not at all who I would have guessed.
Grodner: If Megan [Lowder, the 28-year-old dog walker who once worked in a prison in the Middle East] doesn't burn herself out early it's very possible because she is smart and a leader.
I had forgotten about Lowder's background of working in the Middle East. Interesting considering Christmas Abbott also worked in Iraq for four years as a contractor. Well that's quite a coincidence, unless it's not.
We're also hearing it's been a rocky start to the Big Brother game so far for several of the Houseguests as Grodner also reveals they've already had "our first big fight!" Grrr. Sorry we missed that. As for who it was, Meehan reveals "it was a man and a woman, and a temptation played into it." He goes on to explain the temptation was part of the HoH comp that one of them accepted. "It shocked people and caused a bit of an argument," says Meehan.
Remember the Den of Temptation is this season's big twist, so far, and the HGs will be offered a trade off within there. Something that could be good for them but then bad for the rest of the house, but maybe not always that easy. I thought viewers were supposed to be voting HGs in for that though, but there was no preseason voting. Guess they either changed that plan or let something else decide for the first round of it.
As for those temptations, it sounds like we'll see that play in to tonight's Big Brother 19 premiere:
THR: On premiere night, how are the first temptations presented to them?

Meehan: They were tempted by money, safety and power. The first one was a large cash temptation.
Well, well, well. That certainly plays in with my speculated scenario with a temptation of someone being offered a buyout. Maybe one HG takes a pile of cash to leave the game and someone else comes in? Lots of possibilities! We'll know more in just a few hours.
If that happens then it'd tie in nicely with the possibility that Cameron could already be out of the game. One of our keen eyed readers noticed things looked a little different for Cameron's photo shoot. BB buffs will remember both Jodi and Glenn were evicted and then brought back to stage their swimsuit pics, so this isn't unheard of.
And of course there's already flirting and a budding showmance. I wouldn't put too much in those though as you might remember Victor and Natalie had a showmance blossom and die before the Feeds even turned on!
Grodner: There's certainly attraction for sure. Mark, who is a romantic, is already smitten with Jessica [Graf.]

Meehan: He hangs out with Christmas a lot too.

Grodner: There are a lot. You just saw as we were walking through Christmas and Matt [she was sitting on his lap.] But earlier I saw Raven [Walton] and Matt!
They love their showmances, don't they? Can't wait to see what's going on game-wise though. What do you hope to see in tonight's Big Brother 19 season premiere?

Try Live Feeds 1 Week Free! Only $5.99 per month thereafter. Sign-up now.
Source: hollywoodreporter.com