Well that escalated quickly. It was a hot afternoon on the Big Brother 19 Feeds after Mark and Josh moved beyond angry words to actions and I'm still amazed that neither of them threw a punch.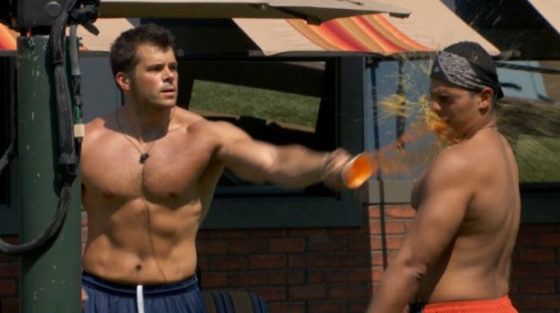 To set the scene, you've got Mark and Josh in the backyard playing a high-stakes game of billiards with the loser having to drink a cup of pickle juice with hot sauce mixed in.
Flashback to 3:17 PM BBT on your Live Feeds. Get the Free Trial now to watch it play out.

The game comes down to one last ball when Josh takes a shot and Mark calls out that he scratched and has lost. Josh denies he lost and says he wants to redo the shot. Mark isn't agreeing to that so Josh insists he won.
At 3:30 PM BBT Josh brings Mark a cup of pickle juice with hot sauce. Mark asks him again if Josh really feels he won and Josh says he does. Mark takes the cup and throws the contents in Josh's face. Hot sauce in the eyes, not to mention the pickle juice. Yikes.
twitter-tweet" data-lang="en">

If you missed the fun, Flashback to 3:30 PM then 3:33 PM & 4:23 PM for fallout, near-house meeting. Watch it: https://t.co/nsJOatQ2un #BB19 pic.twitter.com/k8yN6N0eOz

— Big Brother Network (@bigbrothernet) July 18, 2017
Josh is upset, understandably, and goes inside to wash off his face. He returns at 3:33 PM BBT armed with ketchup and ranch dressing. Big Brother is announcing "Stop That!" but it doesn't work. Josh throws it all over Mark who gets up and chases him across the yard, but instead of punching at each other Mark just wipes some of it off on Josh.
Elena can't believe Mark did that and urges him to apologize. Mark says he will and tries, but it's no good. Josh is furious and goes to relax in the hot tub. Soon he's surrounded by inquiring HGs and things heat up again.
Josh is angry and when Mark returns around 4:23 PM BBT there's quite the audience. Josh is yelling at Mark that he deserves no respect and Mark is upset back at him. Soon Jessica gets involved asking if Josh had lied to her. He takes a few pot shots back at her before she tries to dip out of the argument.
Gallery: Mark & Josh Food Fight & Argue
Things escalate to Josh accusing Mark of being involved in Cody's attempts to target Christmas and Paul in the first week. Josh calls out Mark's reaction to Dominique's talk show disaster with Cody last week, suggesting his reaction was that of a guilty man.
Josh just can't stop himself. He continues to yell and shout about conspiracies, liars, and disrespect. He's gone off the rails. Eventually Mark leaves and Josh continues with his smaller audience at the hot tub.
It's great Feeds and total chaos. I can't imagine this will be good long term for Josh's game, but then again he did this sort of behavior in week one and hasn't been that much of a target since so maybe he can roll away from this one too.
The house is hot today and maybe it won't be quite so quiet this week as I thought it'd be with a set target for Thursday's eviction. What do you think? Can the HGs keep up this pace of crazy?


Watch 1 Week Free! Only $5.99 per month thereafter. Sign-up now.