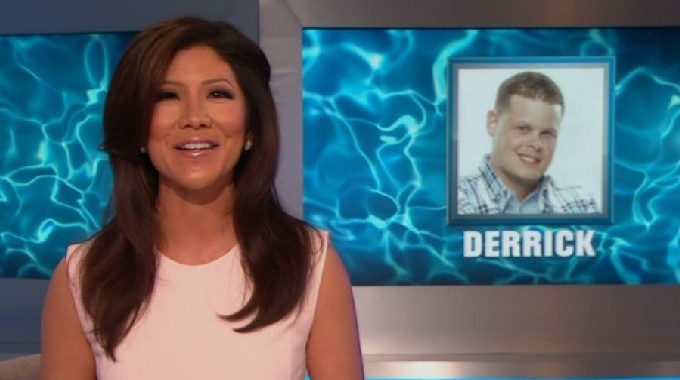 Big Brother is back with a special Friday episode and we're about to find out what happens in the Big Brother 19 house when the Feeds go down and a special guest visitor goes inside. Julie Chen revealed Derrick Levasseur, winner of BB16, was back and paying the HGs a visit. Beyond that, we didn't know for sure.
Based on the usual progress of events after Double Evictions and the regular Big Brother weekly timeline there's been plenty going on inside the house. There's most likely a new Head of Household and nominations should be wrapping up this evening as well. But according to Julie on Thursday, we won't be seeing any of that tonight. Turns out, the whole night is a clip show with just a tease of the next HoH comp from Sunday's upcoming show.
We're picking back up with the immediate post Double Eviction elimination of Elena. Mark is crying in DR because he didn't give Elena the space she wanted. Well she's got lots of space now!
Paul is hot over Jason's reveal in his nomination speech that Mark wanted to come after him. Mark denies it, but Paul is being Paul and digging in.
The Houseguests are settling in for the night when the doorbell rings. Everyone races to see who it is when… Derrick comes in carrying a move-in bag. Paul's face drops to the floor. He's clearly worried, but not for long. Derrick reveals he's just teasing them.
Instead, Derrick is here to reflect on the season so far and introduce clips. Yes, tonight is a clip show. CBS took down our post-DE Feeds for more than a day to do a clip show. Going. To. Lose. It…
Well, I guess we're stuck waiting for the tease of the Head of Household competition at the very end of the show, but even that likely won't be the full thing. We'll have to get that info off the Feeds later.
The show ended with Derrick taking everyone out to the backyard. The competition is called "Tales from Decrypt" (clever) and it requires HGs to remember events from the season. Derrick is hosting and the wall behind him has a bracket on it so we've got another tourney comp here. Spoilers coming up around 9PM PT.
Feeds will be back before too long though. You can start watching them again around 9PM PT (12AM ET) and we'll be ready then to find out who won HoH and was nominated. Don't forget that tonight is your last chance to use Promo Code BB19SALE to get a free month of the Feeds, enough to get you through the season.

Download our Big Brother App, join us on Facebook & Twitter, and get our Email Updates for more!