From one night to the next Josh Martinez has kept us on our toes as we try to follow just which way his likely-to-be swing vote will land during tonight's first live eviction of Big Brother 19.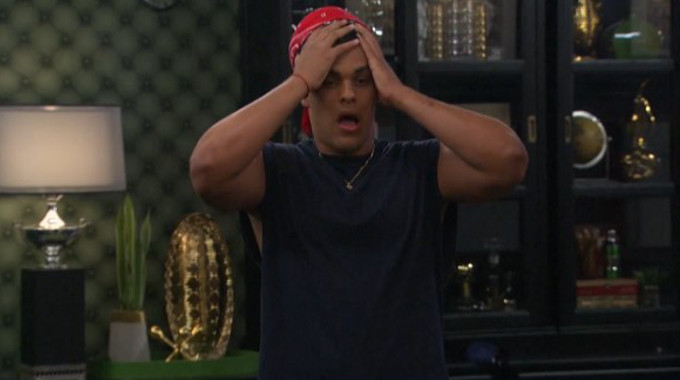 Tuesday night we saw Josh go to Cody and Jessica promising his vote to evict Christmas only to head downstairs and laugh about it with Paul as he confirmed he was going to stick with him to vote out Jillian and watch the outgoing HoH flounder about after previously ignoring him all week. Well his tune may have changed yet again on Wednesday night in a camtalk session where he questioned his path ahead.
Flashback on your Live Feeds to 1:39 AM BBT 7/6 Cams 3/4 to find Josh alone in the Have Not room. He commences a roughly 20 minute talk about what could be his best option for aligning and who he should send out the door. Grab the Free Trial now so you can rewind and watch. It's worth a listen.
Josh starts off saying he's been treated poorly all week and is being underestimated so far. He is confident that whatever he does could either make or break his game. Josh knows he's being drawn toward the showmance side but he worries that only Paul, Christmas, and Dominique can be trusted. "They already have their solid seven. They're not trying to break that up. They're not trying to bring me in," Josh points out while noting he has pledged his loyalty to Paul and Christmas.
Keeping Jillian would be a less of a threat to his game, Josh comments, but keeping Christmas would put someone in the house that's going after Cody. Josh admits Christmas would be a strong player, even with her broken foot, for the stronger alliance though she has trusted him so far. He worries Christmas wouldn't extend herself for him as he'd do for her.
"I'm really torn," says Josh. "I gave Christmas my word, but looking at the bigger picture and seeing how they move, I don't think it's best for my game. So this is really hard."
Josh goes on to praise the "strong five out there" as he points to where Alex, Jason, Kevin, Jillian, and Ramses are sitting and says he'd be their sixth. Sadly for Josh, later Alex was telling Jillian not to give Josh any more info because he can't be trusted. Seems that group doesn't particularly want him in their core like he believes.
Bouncing back again Josh says he trusts Paul, Dominique, and Christmas, but does not trust "those two showmances," Mark & Elena and Matthew & Raven. Would that be enough for him to steer away from that group?
Jumping forward a few minutes after other HGs walk in Josh resumes his camtalking at about 1:49 AM BBT. He says he will be the captain of his fate and is ready to play it solo since he thinks that's an advantage in the game.
Josh makes it clear that he wants to keep Jessica & Cody in the game since they'd be bigger targets as Josh considers himself the next in line public enemy after they're gone. So if he doesn't want them immediately targeted then you'd think he'd want to keep Jillian, right? He's so all over the board here.
Few minutes later at 1:52 AM BBT Josh says he hopes either Matt or Raven will flip their vote. Well that's an interesting point there. What would that do for him? If he does VTE Jillian but either Matt or Raven flips then it'd be tied and Christmas would be voted out by Cody. If Josh decides to go with VTE Christmas and either Matt or Raven flips to that column as well then Christmas goes by two votes. Either Josh hopes to bury his vote there or wants to stick to his promise with Paul and still see Jillian go. I think he might mean the latter.
Jump ahead to 1:56 AM BBT as Josh reiterates he will show his loyalty to Paul through his action. Josh feels very close to Paul. He speaks of having "a lot of respect and love for that kid." If he really wants to show his loyalty to Paul with his actions then he votes to evict Jillian.
So there we go. I do believe Josh is on the razor's edge right now with his vote but if Paul continues to stick by his side on Thursday morning and leading in to the eviction show then I expect we will see him vote to evict Jillian. Holding the rest of the votes as we saw earlier this last vote puts Jillian out the door 7-5 over Christmas. But if Josh freaks out… well no matter how it goes we'll get a wild show tonight and I can't wait!
Make sure you've got your Live Feeds signed up and ready now so you can jump on as soon as the east coast broadcast is over and we'll watch the fallout in the house because you know it's going to be good!
What do you think will happen? Has Josh flipped to keeping Jillian in this cryptic discussion or will he ride with Paul and help Christmas stay in the game? Share your thoughts below!