The waiting and wondering is over! CBS has just announced when we will meet the Big Brother 19 cast! Get ready for another streaming reveal exclusively on your All Access Live Feeds next week!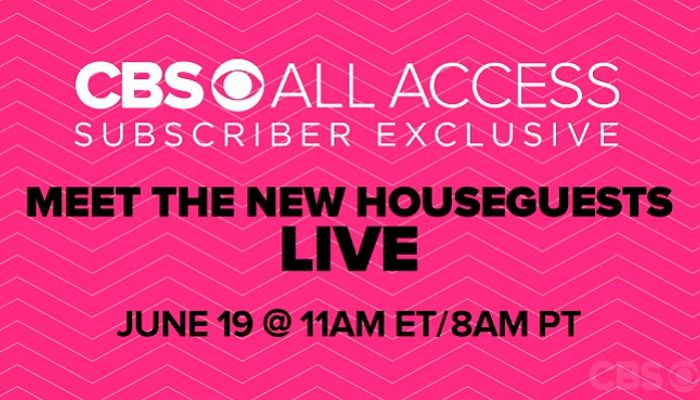 Starting next Monday, June 19, 2017 at 8AM PT (11AM ET) we'll be watching this summer's roster of Houseguests and we'll either be meeting them for the first time or finding out who could be returning to the game. We still don't know what sort of casting twist awaits us, if any.
You can visit us back here on the site Monday at 6AM PT (9AM ET) to see the cast bios, details, and pics. Then after that you'll want to watch All Access for the streaming and on-demand Houseguest interviews.
If you've already got your CBS All Access subscription up and running then you're set and ready for the big event next Monday. If you haven't signed up yet then now is the time to get your Free Trial and watch everything live with all the Big Brother fans.


Try 1 Week Free! Only $5.99 per month thereafter. Sign-up now.
New to All Access? It's the online streaming service from CBS that works like Netflix or HBO GO, but features all of CBS's online videos including the Big Brother Feeds. Important, must-have stuff here. The cost is again going to be $5.99/mo to get all your live Big Brother Feeds and streaming episodes, if your market is covered (most are).
You can read all about the Big Brother 19 Live Feed details here for more information. An important reminder on these Feeds is that if you sign up through our links and banners then we get a referral credit which pays the bills and keeps this site running. It costs you nothing at all, not a penny more if you come to our site and hit the links instead of going straight to CBS's site, so please consider doing that. Greatly appreciated!
Okay, so we've finally got the word on when we'll watch the new Big Brother 19 cast's interviews: Monday, June 19th at 11AM ET. Past few years that event has lasted several hours so be ready to settle in and spend some time with the BB19 HGs that day. Good times ahead! Who do you hope to see in the roster this summer? All new HGs, Vets, or maybe a mix of the two? Cast your vote in our BB19 poll here.
Be sure to download our Big Brother App, join us on Facebook & Twitter, and get our Email Updates for even more Big Brother fun all summer long.
Update: Bummer news. CBS confirmed to me today that we didn't make the cut for cast interviews this year as they've run out of room at the press event held on CBS's studio lot. You may remember that happened last year when they had fewer HGs/Newbies to interview. Could be happening again this year. I certainly wouldn't be surprised, but of course that's just my speculation.