The Big Brother 19 Live Feeds returned to a quiet house after being down for Wednesday's eviction episode. We did get to learn who won the Power of Veto and which player will be leaving us tonight, thus giving us our Final 3. Read on for those details.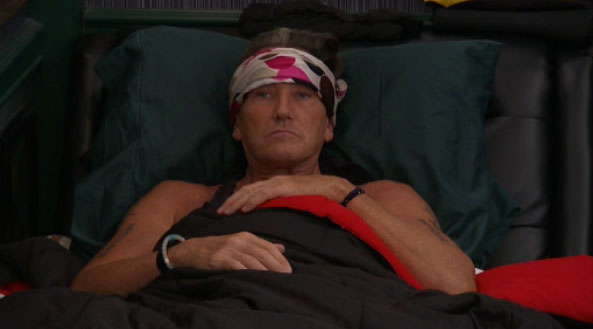 If you've got the Live Feeds (Free Trial) then you can watch all of these moments with the Flashback feature to go back and watch those important conversations or funny scenes you may have missed.
Big Brother 19 Live Feed Highlights – Wednesday, September 13, 2017:
9:01 PM BBT – Feeds return. Josh, Christmas, and Paul are asleep in the HoH room. Kevin is wandering around.

9:08 PM BBT – House is silent. Kevin wanders with a bowl of ice cream and offers some to the camera.

9:35 PM BBT – Kevin gets called to the DR. He says it must be some kind of a mistake, but gets up and goes.

9:48 PM BBT – Paul is up and goes to the Lounge for a "Friendship chat." He reviews his season so far. Paul reaffirms his plans to take Josh to the Final 2 and hopes for a clean sweep with the Jury. He says that this season was super difficult but he likes that he had to play a different game than last season.

9:49 PM BBT – Paul says his best chance to win will be sitting next to Josh.

9:53 PM BBT – Paul says when he came into the game and saw he was the only vet, he thought it was over for him.

10:05 PM BBT – Christmas joins Paul. He talks to her about hard the game was for him being the only vet. She agrees.

10:09 PM BBT – Paul tells Christmas that this week played out exactly how they needed it to. They are happy that the final three they've always wanted is about to happen as soon as they cut Kevin.

10:12 PM BBT – Paul says Kevin hasn't spoken much today but keeps mentioning America's Favorite Player. Paul says he thinks Kevin has given up and knows he's leaving. They discuss Christmas being the sole vote on Thursday.

10:20 PM BBT – Christmas talks about how high she was most of the season.

10:55 PM BBT – Josh and Christmas discuss how Christmas is going to cast the vote to evict Kevin. She says she will say that everyone left has won multiple competitions and had to nominate people and send them out while Kevin has no blood on his hands and could win the game because of that.

11:56 PM BBT – Paul says he's happy he gets to be in the final 3 with people he wanted to be there with unlike last season.

12:00 AM BBT – Paul notes that without going to Jury he hasn't had the full Big Brother experience.

12:20 AM BBT – Paul discusses R2 of the final HoH from last year. Josh suggests Big Brother will change it to make sure Christmas can compete.

12:25 AM BBT – Paul tells Josh and Christmas that he failed to repair things with the Jurors.

12:35 AM BBT – Paul is promising Josh and Christmas that they'll have major social media followers when they get out this season.

12:40 AM BBT – Paul explains how he expected to be evicted before Jury and every week he thought he'd be gone.

1:10 AM BBT – Paul and Josh are wrestling around in the HoH room while Christmas watches and laughs. They're just goofing around.

1:30 AM BBT – HGs are off to sleep.
Well that was an uneventful night for the most part, but we did get confirmations of the spoilers with Paul winning Veto, his fourth of the season, and now he'll get to pick Christmas to cast the vote against Kevin at the F4 eviction. From there we also learned that Paul still plans to take Josh to the end, but he better not let Josh win R3 or Paul will join Jury and Christmas will be in the F2.
You can watch all of these Big Brother events using the archives Flashback, the DVR-like feature of this year's Live Feeds which means it's always live, even when you missed it! Sign-up now to get the free trial to watch it all live & uncensored.

Gallery: Live Feeds Highlights