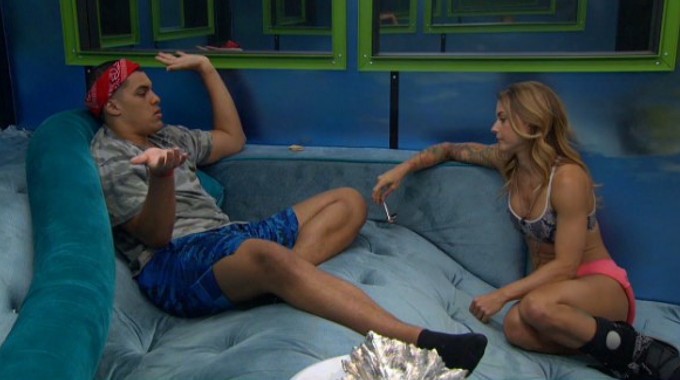 Veto Day arrived for the Big Brother 19 Houseguests as they prepared for who would be playing and tried to look at ahead and what moves they could make this week. The picks came through and left the majority frustrated, but ready to move ahead on their plans to evict the secret target.
Jason continued to worry even after being explicitly warned about the danger, but instead of keeping it to himself he took the worries to Alex who falsely promised him safety yet again. Oops.
Here's what the HGs have been up to on Saturday so far as we await the Veto competition and its critical results for the week's events.
If you've got the Live Feeds (Free Trial) then you can watch all of these moments with the Flashback feature to go back and watch those important conversations or funny scenes you may have missed.
Big Brother 19 Live Feed Highlights – Saturday, September 2, 2017:
9:15 AM BBT – Lights are on, but HGs aren't really moving yet.

10:30 AM BBT – Christmas and Raven are hanging out in the bathroom getting ready for the day. Christmas says Raven is in a better position now with Matthew gone and she can just lay low for now.

10:35 AM BBT – Christmas tells Raven not to align with Paul or others will see that as a threat. Christmas suggests Alex actually wants them to take a shot at Jason. They wonder if Alex and Jason would really save the other if they won the Veto.

11:05 AM BBT – Paul yet again suggests this will be a Sunday eviction. (No. Again.)

11:30 AM BBT – Paul has a new plan and thinks they should save whichever of Alex and Jason is going to be staying to gain favor with that HG as well as scaring Kevin in the process. He thinks he can convince Jason to save Alex then they can get him out.

11:55 AM BBT – Jason tells Alex he's getting worried, but tells her not to overreact to his concerns. He says it doesn't make sense to nominate them both. She says it was to keep Kevin calm. They each say they'll save the other if they win Veto.

12:00 PM BBT – Alex says if Jason feels nervous then they should go talk to Paul again. Alex reminds Jason that Paul's game last year was based on "friendship" so surely they can trust him again this year. (Dummy.)

12:40 PM BBT – Alex reminds Jason that as long as one of them comes down then they've got the votes for the other to stay with Josh and Paul joining them. Jason says it's too risky still to not try and win Veto. He doesn't like the idea of letting Paul win it. Alex agrees that they should play to win then.

12:45 PM BBT – Alex tells Paul "they" don't have the votes to get "us" out. She thinks Christmas would look bad to renom Paul. Jason asks Paul what they should do with the comp. Paul says he (P) needs to win.

12:50 PM BBT – Alex lets Josh know it'd be best for Paul to win Veto so he'd be safe from renom too.

1:00 PM BBT – Paul promises to Alex that he'll save her if he wins Veto. He then reports back to Christmas that Alex and Jason are okay with throwing the Veto to him. Paul says if he wins then he'll save Alex and reel her in then set things up for the tiebreaker. Christmas says she's comfortable with a tiebreaker and would send Jason out.

1:05 PM BBT – Christmas starts counting votes and wonders what happens if Alex comes down and votes for Kevin to go.

1:12 PM BBT – Feeds cut to pick players.

1:41 PM BBT – Feeds are back. Players were picked. Josh will host. Everyone else will play. Paul is annoyed with the picks and didn't want Kevin to play.

1:45 PM BBT – Josh warns Christmas that Paul will save Alex if he wins it and that would be Paul playing for Paul rather than their trio. Josh isn't happy that Paul is playing every corner of the house. He says this is all to Paul's benefit and to help Paul with Jury votes while he and Christmas look like the bad guys. Josh warns Christmas that when Jason goes Alex will be enraged and come after the two of them.

1:50 PM BBT – Christmas tells Josh to stop with the anti-Paul talk or someone might overhear him. Christmas says if Alex comes down then they all need to vote the same so Paul can't put the blame on them instead.

1:55 PM BBT – Josh warns Christmas that Jason suggested he (Jo) and Christmas has an alliance. He fears Paul is putting that idea out there.

2:00 PM BBT – Josh says he's not going to play the game to benefit one person's game. Christmas tells him he needs to rephrase that less aggressively.

2:10 PM BBT – Josh tells Christmas whatever they do, it needs to benefit all three of them. Christmas agrees and tells him to suggest the moves need to be mutually beneficial.

2:15 PM BBT – Josh again warns Christmas that after they take a shot at Alex and Jason, then Alex is going to come after them next week and she'd put the two of them up. Christmas says they can address this tonight between the three of them.

2:20 PM BBT – Josh admits he understands that Paul is worried about Jury votes, but they should all three get to worry about them too.

2:30 PM BBT – Christmas worries the Jury might see her as someone who has been carried all season, but she doesn't see it that way and guesses viewers don't either.

2:35 PM BBT – Paul arrives so Christmas and Josh change their discussion. Alex follows in with Paul.

2:40 PM BBT – Alex complains to Paul, Christmas, and Josh about Jason being worried. She retells them the discussion she had with Jason earlier.

2:55 PM BBT – The group discussion continues as they focus on complaining about Kevin and how much they dislike him for being old and dumb.
Read what happened next with our Saturday Overnight Feed Highlights Report for the Veto competition results and overnight fallout planning for the next eviction.
The draw went well for Jason as I'm sure he'd rather go against Kevin than Josh, but if he takes the dangerous decision to listen to Alex or Paul and pull back on the throttle in the comp then he's done and gone. We'll keep watching and waiting to find out what happens next tonight.
You can watch all of these Big Brother events using the archives Flashback, the DVR-like feature of this year's Live Feeds which means it's always live, even when you missed it! Sign-up now to get the free trial to watch it all live & uncensored.

Gallery: Live Feeds Highlights