The countdown is on to the first live Big Brother 19 eviction of the season and the Houseguests spent their day scrambling for votes. Well, not Jillian. She actually made a point of not trying to secure votes. Meanwhile the other side worked hard and looks to be ready to pull it off thanks to their efforts.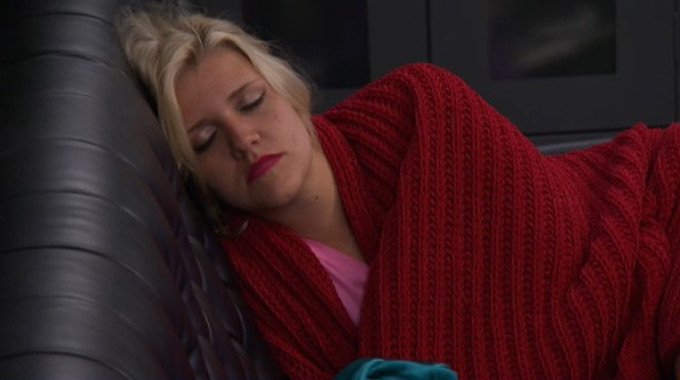 Feeds have turned off for the evening so HGs can prepare for the live show at 9PM ET and guess what? There's an Endurance Comp tonight after the live show! Make sure you've got your Feeds ready to start watching at 10PM ET!
If you've got the Live Feeds (Free Trial) then you can watch all of these moments with the Flashback feature to go back and watch those important conversations or funny scenes you may have missed.
Big Brother 19 Live Feed Highlights – Thursday, July 6, 2017:
8:50 AM BBT – HGs are starting to get up for the day. Welcome to Eviction Day, HGs!

9:30 AM BBT – Christmas and Elena joking around with Ramses in the bathroom.

9:30 AM BBT – Jillian napping in the open bedroom.

9:45 AM BBT – Cody and Jessica cuddling upstairs and complaining about the other HGs downstairs. Cody is upset about the "mutiny" and begins to quote "300."

10:15 AM BBT – Christmas tells Matt he needs to work on opening up to Josh. She suggests he should go talk with Josh to let him know he's good with their side. Matt says he's good with telling Josh he'd be safe with their side.

10:23 AM BBT – Cody comes to check in on Josh. Josh warns Cody he needs to watch his back. Cody starts asking who is coming after him, but Josh won't answer. Cody asks him for just one name, but Josh doesn't elaborate. Cody tells Josh they need to focus on this vote for now.

10:25 AM BBT – After Cody leaves Alex tells Cody to not stir things up right now.

10:26 AM BBT – Alex warns Jillian that Josh is repeating to Cody things they discussed last night. Both are upset with Josh for running his mouth.

10:27 AM BBT – Jillian goes to Josh and he promises her his vote saying she isn't going anywhere.

10:35 AM BBT – HGs are primping and getting ready for the big day.

11:15 AM BBT – Matthew goes to talk with Josh and promises him the group will have Josh's back. Josh says he'll show he's loyal with his actions. Fist bump and break.

11:18 AM BBT – Jillian camtalks that she's on to Matthew trying to steal her votes and she'll get back at him.

11:20 AM BBT – HGs called to the HoH room for the weekly lockdown for live show prep.

1:05 PM BBT – Feeds are back. HGs continuing to get ready for the day.

1:10 PM BBT – New banner on the Feeds viewer says tonight's HoH competition will be on the Feeds! Get yours now and be ready to watch with us at 10PM ET!

1:12 PM BBT – Jillian tells Alex she hasn't been talking to anyone today about votes. Alex says that's good and to be sure not to annoy the other HGs about it. Yikes.

1:15 PM BBT – Christmas is counting the votes and thinks they'll get 9-3 to keep her. She says if that doesn't happen, but she stays, then they'll re-evaluate their allies. Christmas says "Cody f**ked up."

1:15 PM BBT – Josh tells Paul he's worried the outsiders will turn on him when they realize what he did with the votes. Paul tells him to go with the numbers and promises Josh he won't be a pawn if Paul wins HoH.

1:19 PM BBT – Mark speaks privately with Josh and says they've got Josh's back. Mark then talks with Matthew to confirm they've got Josh's vote.

1:25 PM BBT – Kevin chatting with Elena and asks if she knows The Rolling Stones. She does. He asks her who is the lead singer. She doesn't know. Ugh.

1:40 PM BBT – Ladies are preparing and picking out their outfits. Elena flashes her top leaving nothing to the imagination. Christmas shouts "camera!" but it's much too late.

2:05 PM BBT – Kevin tells Paul that while he (K) has told the outsiders he's voting to evict Christmas, he isn't. Kevin says he will VTE Jillian.

2:08 PM BBT – Jason warns Cody he'll probably have to be the tie-breaker. Cody hopes Mark will stick with them for the vote.

2:10 PM BBT – Jason tells Cody he's going to get really upset if either Ramses or Josh flips their vote.

2:45 PM BBT – Josh asks Cody what happened with the 9-person alliance. Cody says he picked the outsiders over his old alliance.

2:50 PM BBT – Josh camtalks that he's voting out Jillian. He hopes to keep playing the middle. Josh believes keeping Christmas will help his game since she'll be going after Cody.

3:00 PM BBT – Cody is resting on the HN spike bed just for fun and to test it out.

3:10 PM BBT – Jessica comes in to join Cody on the HN bed and lays on top of him. Ouch!

3:17 PM BBT – Feeds cut to CatLoops, likely for the evening. Back after the show.
So Josh's vote looks secured to keep Christmas and maybe even Kevin which would be a surprise after all his talking to the outsiders. I'll be interested to see what happens there. Whichever way it goes the endurance comp is going to be fantastic. Great timing for this HoH comp tonight!
You can watch all of these Big Brother events using the archives Flashback, the DVR-like feature of this year's Live Feeds which means it's always live, even when you missed it! Sign-up now to get the free trial to watch it all live & uncensored.

Gallery: Live Feeds Highlights