After word continued to spread on Tuesday about the early arriving fall edition of Big Brother Over The Top there remained a big question as to whether or not we should expect Julie Chen's company. Now we know.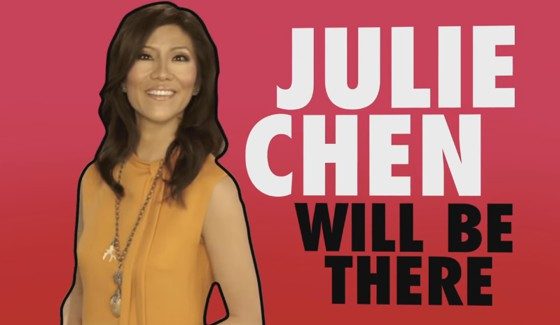 CBS released their own press statement today confirming the BBOTT season would start "soon after" the end of Big Brother 18 and when it does Julie Chen will be there for the fun.
My knee jerk reaction had been an expectation that Jeff Schroeder might end up doing hosting if CBS was going for a slimmer approach to the season since he already handles a lot of CBS's online duties for All Access and Big Brother. We also saw speculation that Kathy Griffin, a repeat visitor and fan of the series, might be a possibility. Well move on over and make room for Julie cause here she comes.
While the details were about as thin as they could be, CBS did include in the announcement today that "Big Brother host Julie Chen will also be part of the digital edition." So, what does that mean?
I'd assume she'll be there as the host, but must admit the statement doesn't actually say that, does it? Well, maybe it does and I'm getting too focused on the phrasing. It clearly says "Big Brother host Julie Chen" so I'll stick with that. My expectation from this is that Julie will be there and she'll be the host of Big Brother 19. Julie has confirmed. See update below.
If Julie Chen weren't going to be hosting then who would you like to see be the face of the online-only All Access season of Big Brother 19? We're likely only about two months away from the start of the new season which is overwhelming to consider, but nonetheless we'll be here and covering every bit of BB19 from start to finish. I hope you'll join us too!
And of course for the very bold and daring, you can apply for Big Brother 19 right now. Let's get some awesome new faces and strong personalities in the game so if that's you then put your name out there and see what happens. Best of luck to all who try out.
Update: Yes! Julie Chen has confirmed that she will indeed be back for BB19 and will most definitely be the host!
twitter-tweet" data-lang="en">

There's no Big Brother without the #Chenbot !! #BB19 I'll see you this fall .. #DefinitelyHosting pic.twitter.com/ZZOarywf56

— Julie Chen (@JulieChen) August 4, 2016