There remains little hope for Da'Vonne Rogers to escape this week of Big Brother 18 without being evicted, but as she's continued to try and discover the poorly hidden plans against her, Da'Vonne's former allies are doing their best to hide the truth.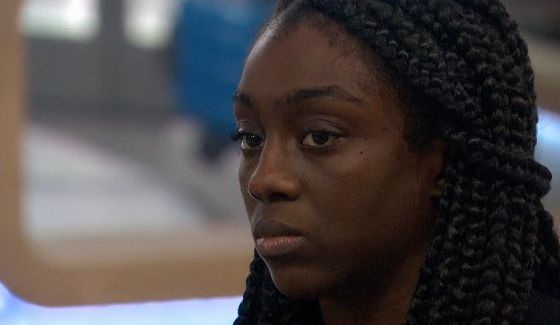 Since yesterday afternoon the flags have been going up for Da'Vonne but it's almost been as if she was keeping herself from accepting the obvious reality in front of her. But at this point, even if someone will admit the truth her fate looks to be sealed.
Yesterday afternoon Da'Vonne dropped in on a talk between James, Nicole, Corey, and Paul about targeting Da'Vonne this week. Flashback to 2:55 PM BBT 8/2. Da'Vonne asks what the group is thinking for Double Eviction targets and James offers up Bridgette and Victor as ideas. Da'Vonne points out Bridgette shouldn't be here after Thursday. Oops. She leaves the room on full alert and knows something is up.
A few hours later Da'Vonne pulls James aside (5:20 PM BBT) and she asks what's going on. Day wants to know why he said Bridgette would be his target in a DE. James scrambles and says he thought the talk was about who was going next. She pushes again asking James if there's anything he's hiding and he can tell her. James continues to deny what he knows: Da'Vonne is the target and will be evicted.
Da'Vonne straight out asks James if she 100% has his vote. He says he does. Ouch. Not only that but James suggests she might be getting Natalie's vote. Against her friend Bridgette? No way Da'Vonne is buying that. She already said the night before that she expects Natalie to vote to evict her.
You can put James over in the column for allies continuing to lie to Da'Vonne about what he knows and is planning to do.
Move forward a bit to 6:50 PM BBT as Da'Vonne is talking with Zakiyah. Day is very suspicious and asks for info saying she's thinking the house is going against her. Zakiyah doesn't offer up anything. She knows Paulie is targeting Da'Vonne but doesn't warn her. There goes another ally.
Da'Vonne goes to Michelle to see what she knows. Flashback to 8:17 PM BBT. Michelle just had a long talk with Paulie so Da'Vonne is hoping for info. Well guess what, it won't be coming from Michelle either as she tells Da'Vonne Paulie just promised her Bridgette is going home. We know Michelle is on to the Evict-Da'Vonne plan because she was upset earlier that she didn't use the Veto last week and now it's going to be another round of Bridgette staying in the house.
Now it's Paulie's turn. Move forward to 12:30 AM BBT to find Da'Vonne talking with Paulie in the HoH room. Paulie promises Da'Vonne that he'll be voting out Bridgette. She leaves and Paulie lets Zakiyah knows he thinks it'd be the right thing to tell Day that he pushed for her to go up and out.
Back to James Da'Vonne goes as she may fear he could be the one last bastion of hope this week.