We're coming up on this week's Power of Veto Ceremony and there's about to be a change, but unlike most Big Brother 18 weeks we're actually continuing to watch a lot of wavering on the Feeds while this anticipated renom decision is still being made.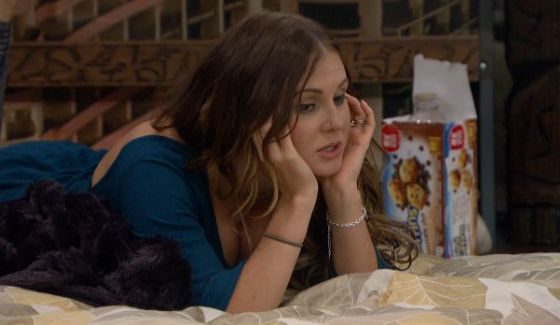 When the Veto results came in on Saturday things looked clear that we'd be seeing a change of the noms and that's still a go, but those in control this week seem to be caught up in endless loops over just what to do.
Paul is going to save himself. No question about it. Now since we have two HoH's, Michelle and Natalie, the renom choice goes to the HoH who put Paul on the Block. That would be Michelle. It's time for her to choose.
Now the plan last week for the F5 was to target Nicole and Corey and Michelle is starting to see that's no longer the plan. James and Natalie talked with Michelle last night and it became clear that Victor needed to go since he's so strong in comps. She's not thrilled, but I think Michelle knows she's in a bind here and has no leverage to stop this plan. Michelle has told James and Natalie that she'll be upset if Victor goes, but what's she going to do about it?
So the choice is between Nicole and Corey for Michelle's renom. Michelle announced soon after the Veto comp that she really wanted Nicole out this week. James is about to be the deciding vote and he has no interest in doing that. Of course James sees an opportunity there and spoke with Natalie that if they can get Michelle to go ahead and renom Nicole then James can say he'd be crazy to vote out Nicole over Victor the comp beast.
Round and round the talks have gone while Michelle never seems to settle on a choice. She even went to Nicole and Corey offering them the chance to pick who would go up while even suggesting James would vote that person out. Again, we know he won't do that.
Wrapping things up overnight Michelle stayed up very late with Natalie discussing what to do. Flashback to 5:25 AM BBT to listen in on the talk. Michelle clearly still wants Nicole in the hot seat but I think she knows it'll make things even more likely for Victor to be voted out.
Michelle is telling Natalie how Nicole cuddled with James early on in the season and did so to distract James from Natalie. It's been so long I have no idea if this is true, but I imagine Michelle got her desired reaction. Natalie is annoyed and says that makes her not want Nicole here anymore. Natalie begins mentioning how much she wants Nicole to go. She even tells Michelle that if Nicole is up and she gets a bad feeling about her on Thursday then she'll forcefully persuade James to vote Nicole out. Natalie is confident she holds that power of persuasion over James.
There's even an "eeny meeny" exercise by Natalie as she tries to decide for Michelle who to renom. Natalie lands on Nicole. So does that mean Nicole is going up? Hold that thought. A moment later Natalie is advising Michelle to go ahead and put Corey on the Block saying Nicole won't win the HoH so she isn't a concern.
In the end it sounds like Natalie is pushing for Corey to go up and I think that's where Michelle will go with this one. She wants Nicole up but likely knows that Victor is as good as gone this week. If she wants to get him to stay her best shot is to get Corey up and then see what happens during the week. I don't think James will be swayed like Natalie suggests and he'll vote Victor out on Thursday. But, as we've seen, anything can happen or change in just a short time on Big Brother 18.
We'll be watching for the Veto Ceremony later this afternoon and will have the spoiler results then. What do you think of Michelle's situation? Does she have any options here or is it pointless with James set on Victor going?
Get the results when they're announced. Grab our Big Brother App and we'll send you an alert when the spoilers are in. Join us on Facebook, Twitter, and by Email Updates to get more results all season.