The Power of Veto competition is coming up today for the Big Brother 18 Houseguests and we've got an idea of how they're hoping to see this turn out. On one side of the house we've got the new HoH plotting with a surprise pair and on the other side we've got blind faith that nothing bad could happen. Someone is going home disappointed.
Update: Veto comp is underway as of 2:10 PM BBT. Spoilers soon.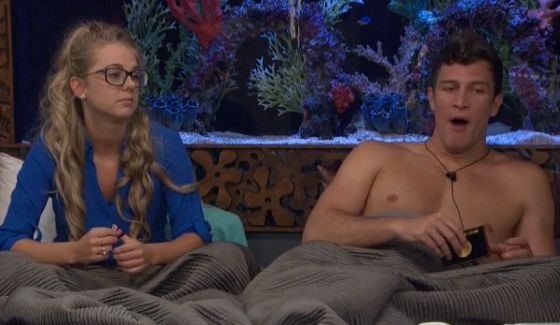 There are seven Houseguests left this week which means all but one will be playing and the odd HG out will be left as the host. Here are the latest plans and expectations for today's Veto comp.
Nicole sent Michelle and Paul to the Block last night so they'll both be playing. Michelle is the real target and Paul is the decoy to lull James and Natalie in to complacency which is a good plan since we know James loves to throw comps especially when he doesn't think he needs to win.
Nicole's ideal scenario for the Veto comp is to see Victor drawn to play then have him win the comp. That way he could save Paul then neither would be eligible for the Block and "oops, look at that" Nicole would have to renom either James or Natalie for the week's final noms.
Nicole has her target in mind with Michelle but overnight Corey began to push for Natalie as a strong possibility. Looks like these two Houseguests have the most to lose with today's upcoming Veto competition but they don't seem to sense that just yet.
Yesterday after the Noms Michelle was worrying about Nicole possibly working with Paul since he didn't seem too upset about going to the Block, certainly not as upset as he was the week before. James dismissed her concerns saying Paul likely expected it. Reasonable. James even suggested that if Michelle came down from the Block then Victor would go up. Not so, according to Nicole's latest plans.
With Paul and Victor now working alongside Nicole and Corey they actually appear to be pretty safe this week, for the moment, with Nicole holding the tie-breaker control this round. If Michelle does come down then Victor won't go up. Instead it'll either be James or Natalie. James shouldn't be in too much trouble just yet either since Nicole appears to still want to keep this close ally around, but how much of an ally would he want to be if she ends up sending Natalie out the Big Brother door?
We'll keep watching for the Veto players to be picked later this morning then typically the Veto competition will come in the afternoon or evening. If Michelle wins then she's safe for the week. If Victor or Paul wins then Paul will be safe and Nicole may finally have to show her cards by renom'ing Natalie though just as she fell back from original nom plans for James she may do it again to Victor with the promise that she'd break the tie in his favor. Should James or Natalie win then we could expect a threat of the other being nominated should he or she use it to rescue Michelle.
What do you want to happen today in the Big Brother Veto comp? Are you hoping to see either Paul or Michelle win their way off the Block or would the drama be better for one of the side players to pick up the win this week? Share your thoughts below.
Download our Big Brother App, join us on Facebook & Twitter, and get our Email Updates for more.
Update: Players were picked. Natalie is hosting while the rest of the HGs are playing. James, Corey, and Victor will be joining Nicole, Paul, and Michelle in the comp.
Considering Nicole's back up plan is to put Natalie on the Block this worked out well for her.