It's been a busy weekend for the Big Brother 18 Houseguests as we're down to the Final 6 with three pairs of showmances and a duo each looking to protect themselves and move on to the next round. Now with the latest spoilers in we know just which groups are going to stay intact this week.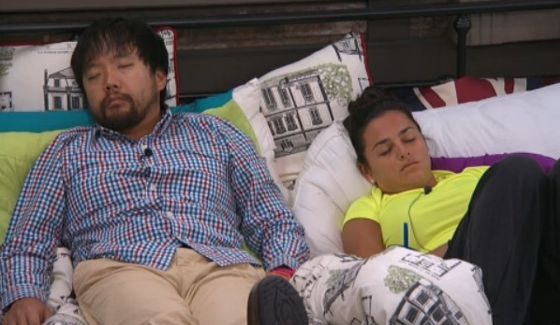 The latest HoH comp pulled another cliffhanger as BBUS seems to have become a BBCAN knockoff with their Sunday show methods of instead of ending the Thursday events with those results. It's given us more to discuss but it'd be nice if they didn't completely abandon the old styles of Big Brother. All the same, we've got your latest Big Brother spoilers since the last CBS episode.
Big Brother 18 Spoilers – Week 11 Roundup:
Head of Household: Nicole watched from the sidelines as Corey, Natalie, James, Paul and Victor worked through their chicken coops to roll eggs down a wobbly ramp and knock over hinged letters that weren't too interested in being toppled. The comp started at the end of the Thursday live show but Feeds didn't pick up for nearly an hour in to the comp.
We watched as HGs knocked the letters with eggs but nothing would budge on several occasions giving the impression of a maybe not so well designed competition. Eventually progress was made and it came down to everyone but James tied with one letter to go. James was performing so poorly that Natalie later accused him of accepting the BB Bribe to throw the comp. He hadn't, but it was pitiful to watch as it took him nearly two hours to get his first letter knocked over.
Victor managed to pull off the win narrowly beating out Natalie's threat of snatching the game back from the F4. With that loss for her and James their fate was obvious. Read more >>
Nominations: No surprises here as everyone in the F4 alliance had pledged to target James and Natalie with their noms. Victor was pleased to have the chance to put them on the Block as revenge for their betrayal and his eviction. Once again Victor had come back from his BB grave to target his executioner and he was happy to do it.
James and Natalie knew they were going up so they weren't even surprised. James had made a pitch to Victor to spare Natalie as he took the blame for the recent events but Victor explained to him it was nothing personal with her nomination and simply a move to lock up the votes against James. Well, we'll see about that. Read more >>
Power of Veto: James and Natalie were on the Block and if they wanted to have any hope of getting themselves through the week together they would need the medallion as no one else was going to let that happen. Well, it didn't work out for them. Corey won the Veto this round.
CBS brought in a new comp with a MacGyver crossover promotion for their new show and the HGs were pretty excited about it when things wrapped up on Saturday night. This should be a good one to watch play out but we won't see it until Wednesday night. Read More >>
The Power of Veto Ceremony will show up on Monday afternoon and right now there are no plans whatsoever to see the PoV in play. Corey knows that Victor will be forced to renom Nicole since he won't be putting Paul on the Block. James and Natalie will remain our noms for the week and the latest talks have Natalie in hot water despite Victor's earlier efforts to place that target on James. We'll have to see what happens with the next eviction still days away.
What do you think of this weekend's Big Brother spoilers? Are you happy with the results or did you want someone else to pull off the wins? If you have our Big Brother App then you received alert notifications as these results arrived. If you don't have it, then be sure to download our app now!