Last night on the Big Brother Live Feeds the Final Four alliance gathered to celebrate their good fortune this week on BB18 and prepare for the path ahead. The new Head of Household had set a target for the group but not everyone was on board so it was time for some persuasion.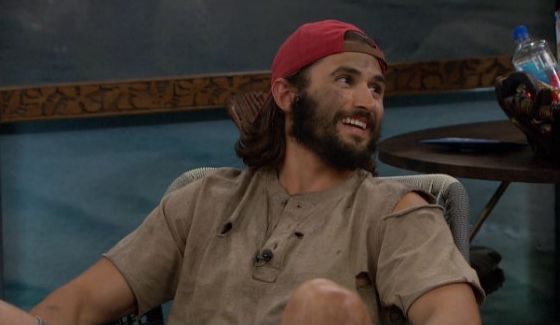 With Nicole and Corey controlling the majority of this week's vote the choice would ultimately be in their hands but wanting to keep the F4 group working together they knew it was better to persuade than later ask forgiveness. It appears they pulled it off overnight.
Flashback to 10:15 PM BBT 9/3 on your Live Feeds (get the Free Trial now).
Victor is talking with Paul, Nicole, and Corey about their choice between sending Natalie or James out the door. Victor wants James gone and in good part because James voted him out. Victor also explains that he just doesn't see Natalie as much of a threat to his game and really he's right but that's an individual position over the group's.
Natalie would try to work with Victor if she stayed as she's discussed with James. It's not like she'd have any good options at that point but she feels it's her best choice and that's where she'd go for support. The rest of the group knows she's obviously coming after them because who else and she's very capable in comps.
We're hearing all three of Nicole, Corey, and Paul advocating that Natalie is the better choice to evict since she's been performing better in comps than James and they're right. She's been coming close repeatedly while James's bread and butter comps are endurance ones like The Wall. They also point out that Natalie is getting more fired up to compete harder while James seems more like a broken man over his game falling apart. I'll admit that they're making a good case here.
Victor yields and agrees to go with the group on this one. He says they can vote out Natalie but he's going to be so upset if he ends up on the Block and voted out by James because he let him stay in the game after having the opportunity to get him out.
Victor admits that he's mostly just upset because he really wants James out on a personal level but knows they're right that Natalie is a better option since she's more of a threat. Victor is on board with the group to vote Natalie out.
They all agree that it'd be better not to tell them anything though. Victor had originally announced in his noms speech that James was his target and Natalie was just a pawn. They hope this way James might not study since he thinks he's going. Then on top of that James will be befuddled heading in to the next HoH comp and be at a disadvantage.
Jump ahead to 10:45 PM BBT as Paul and Victor are left alone when Nicole and Corey leave. Paul wants to talk in private and discuss what's best for the Sitting Ducks but you can tell he's still pushing for Natalie to go. Victor continues to yield to the group's want for Natalie to go. He's on board with the decision and even suggests it's good for the whole group since that's what Corey and Nicole really want so they feel comfortable about the alliance. Victor is thinking ahead to next week when he's potentially at their mercy and unable to compete for HoH.
So there we go. The new target for the week is Natalie and if things don't flip again then she'll be voted out 3-0 and Paulie will find himself with yet another woman in the Jury house. We're still several days away from the next eviction but considering Nicole and Corey have long wanted Natalie out instead of James I don't think they're likely to change.
What do you think of the F4's latest plan to go after Natalie and leave James behind? Is it the better move or will they end up regretting the choice once it's official?