Best. Big. Brother. News. Yet. The Battle of the Block is dead and gone removing the risk of demolishing the start of our Big Brother 18 season. Show runners Allison Grodner and Rich Meehan have confirmed that "fan favorite" disaster has no home in the BB18 house as an early season spoiler.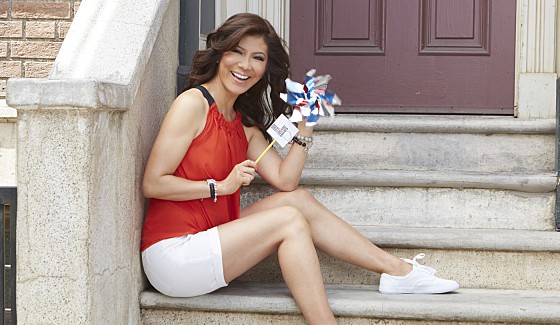 After dealing with that mess of a twist for the past two years we have assurances from the executive producers that the "Battle" won't be touching our Block this summer. Instead "a new Sunday competition is coming in to play," says Grodner.
Speaking with THR during a private house tour (new BB18 house pics here) the execs cryptically explained we'd be seeing something different this year with BotB gone and something new coming in it's place to help spice up the Sunday episodes which typically have only delivered nominations, somethingthe Feeds reveal on Friday night.
Here's what they had to say about the new Big Brother 18 twists:
Meehan: No battle of the block!

Grodner: A new, Sunday competition is coming into play that will —-

Meehan: Twist up the game! It's going to be fun, something we've never done before.

Grodner: Who knows though maybe sometime in the future it will come back.

Meehan: We need to keep the stakes high in the Sunday show because we didn't want to go back to Have Not competitions.

Grodner: You want competitions that have stakes, that really mean something. This new competition really does that. So the nominations falls somewhere in the middle and then this competition and then, you'll see.

Meehan: A new ceremony at the end.

Grodner: A new ceremony!
So what could this new comp be? Well I'd guess it has to do with the four returning players. In Season 14 we had Coaches competitions on the Fridays before nominations, but that timeline would be disrupted by what Grodner mentioned above.
Grodner explained the Sunday shows would have nominations and then this competition. Normally we get nominations on Friday nights then Power of Veto on Saturdays. If they're throwing in an extra comp between those two events, assuming PoV isn't going anywhere in the game plan, then either noms will be moved up or the Veto will be delayed.
Who knows on this "new ceremony" that we'll be watching at the end of Sunday's show. I really have no idea on how to guess that. Something to disrupt the noms? But isn't that was the Veto is intended to do? I dunno.
It's also worth noting they don't plan on having Have-Not competitions again which is a shame. Competing to decide who will sleep in misery and be starved of regular food for a week would typically be considered "high stakes," but the execs disagree. We should expect the Head of Household to be naming those groups by decree rather than through battle and that likely means volunteers rather than true punishments. Ah well.
So what do you think about the demise of Battle of the Block for Big Brother 18? Glad to have it gone or were you hoping to see it back? And what about this new competition and ceremony? Start sharing your predictions!
Download our Big Brother App, find us on Facebook & Twitter, and get our daily Email Updates!
Check out the new Big Brother 18 House design! Click through the gallery below: