Love may be in the Big Brother 18 air for Houseguests Paul Abrahamian and Bronte D'Acquisto. Yes, you read that correctly. After days of "I'd never date him. He's too annoying!" from Bronte it seems Paul's tales of grandeur have broken down the wall of love. Or at least love Big Brother style.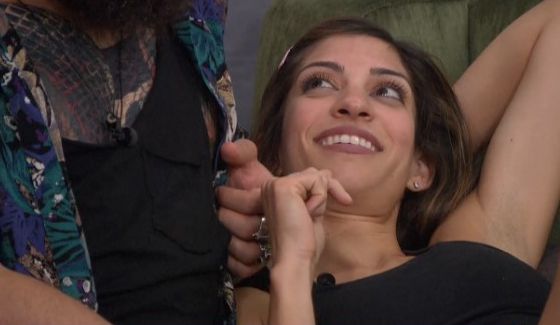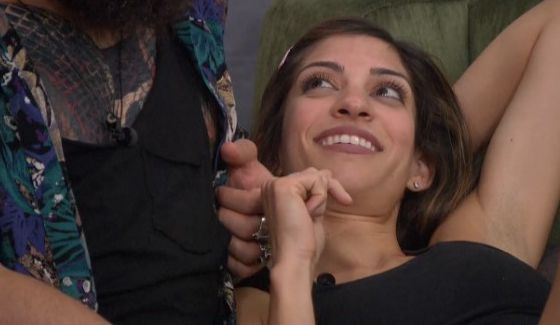 Sunday after the Veto meeting I noticed Paul has getting a good grip on Bronte's leg while the opposing camera view revealed some back rubbing from her to him. Fast forward a few hours to the night and they were cozied up enjoying a "mean girls" session alone on the couch.
As for the afternoon rubbing and squeezing you'll find that at 3:25PM BBT 6/26 with the Revolution alliance hanging outside discussing the beating they just took at the Veto meeting. It's very casual, but obvious contact between the two.
click images to see full-size views
Jump to that same night at 9:30PM BBT Cams 1/2 to find Paul and Bronte alone in the living room. All the space in the room to themselves and they're squeezed in to the same 4 sqft of space with Paul barely hanging on to the couch seat. He's rubbing away at her arm while Bronte leans in and laughs at his every musing.
Most of their musings are about how terrible the other Houseguests are and how Paul will castrate himself if this or that Houseguest wins the season. Paul goes on and on about how someone's eyes aren't quite right so they're hideous and yada yada. This is of course the funniest thing she's ever heard. They're at it for ten plus minutes so feel free to rewind it on your Live Feeds with the Flashback feature and catch it all. Don't have the Feeds yet? Get the Free Trial and see what're watching!
click images to see full-size views
Perhaps the most important question is what they'll name this one? Bronte + Paul = Braul? Paul + Bronte = Ponte? These are critical things we must know! (No, not really.)
It's worth noting they weren't the only ones cuddling last night though. Jump over to 3:00AM BBT 6/27 Cams 1/2. Oh yes, that's Paulie & Zakiyah. We'll have to keep our eyes on them too!
click images to see full-size views
So what do you think of these potential showmances? Which one are you hoping happens? It'll bring up the always lingering question of just how bad an idea this could be for someone's game. Either way, both couplings are beating out the top predictions of Natalie and Corey, though Natalie did supposedly have an ever so brief stint with Victor before the Feeds turned on.