Feeds were hot last night in the Big Brother 18 house as the latest nominations took a surprise swing for the targets but neither were about to take it laying down.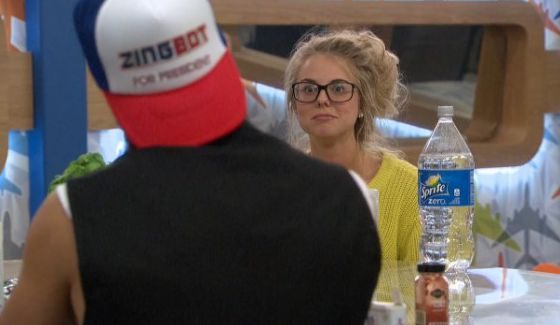 The game fired up right away following the ceremony and kept rolling through the night as Paul worked to change the tide. Then, in an effort to keep the momentum rolling, Paul launched "Operation Callout" to apply the pressure and heat to his renewed target.
Paul took just a few minutes to collect himself after chatting with Victor following the reveal of their nominations. Victor knew in advance but it sounds like Paul had more a surprise and he really didn't like the "liar and manipulator" speech Michelle gave him. They were soon arguing it out (Flashback to 7:19 PM BBT 8/19) as Paul demanded to know when he had lied to Michelle. Eventually things calmed and cooler discussions prevailed with a big shift in plans.
Paul worked the room with Natalie and Michelle to convince them that Nicole and Corey were the real threat and he had been and would remain their ally. A big issue for Natalie had been she was told by Nicole that Paul had told Paulie that James was coming after Nicole and Corey. Natalie didn't like that Paul was making James a target for Nicorey. Paul vehemently denied this claim saying it would make no sense. Why would he out their plan to Paulie on the 1:8 chance of Paulie coming back?
Michelle and Natalie start to admit they made a mistake and ask for time to discuss it privately. James wasn't crazy about changing their targets and expressed the concern after Paul had left. Sounds like he's being overridden on this one by Michelle and Natalie, though remember that they don't have any votes this week and James could end up being the pivot vote. That's another discussion though.
Later as Paul continued to talk with Natalie and Michelle he raised the idea of calling out Nicole and Corey for convincing the HOHs that he was a liar and should be the target instead of them. Flashback to 12:12 AM BBT 8/20 and get ready.
Nicole is in the kitchen while Corey was in the DR when Paul starts things off. He wants to know what he lied about and how he is a manipulator. He's not yelling at her, but his voice is definitely raised. Paul challenges Nicole to give him an explanation of what she told Natalie since it's the reason he's now on the Block.
Nicole denies that she's the reason he's on the Block. Paul counters that of course she is the reason since she lied to Natalie to keep the heat off herself and Corey. He keeps taking it back to things Nicole told them that Paulie supposedly told her about Paul telling him (the claim that James was targeting Nicole & Corey). Paul says the problem here is that Paulie is gone so they can't ask him about it so there's no way to prove her claim (or disprove it).
We're not over yet though as things kept rolling…