After today's eviction we'll be down to the Final 4 HGs for Big Brother 18 and that's going to be two solos and a showmance heading in to the final week of the season. Anyone would be nervous about being the odd man out when the hammer comes down on the F2, but is James willing to do something about it?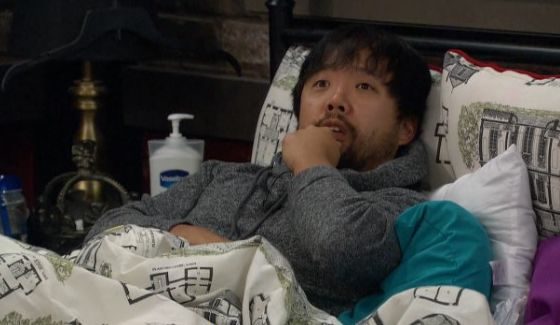 Victor and Paul will be split up today one way or the other and Paul is preparing to continue on in his journey with a target in mind. Last night he worked on James to see if he could turn him from playing next to Nicole and Corey into playing between them.
Flashback to 2:20 AM BBT 9/12 on your Live Feeds (get your Free Trial now).
Paul is telling James that he fully expects Nicole and Corey to take each other to the end so if they don't do something in this next elimination, at the F4 round, then the odds of making it to the end get even worse. Now we've heard Nicole tell Corey she'd be a fool to take him to the F2 and has clearly expressed she wants to go there with James instead, but it might still be a surprise for her to cut her dream guy obsession even at the risk of $500,000.
James is surprised to hear Paul suggest he'd take him to F2 instead of either Corey or Nicole. Paul is reminding James that Nicole has never been nominated and "no blood on her hands" as he puts it, but she has made cuts this season. Paul moves on to detail how Corey has only been up twice with plenty of wins under his belt just like Nicole has done this season. Whether Paul is making his own case for not taking them he's also planting seeds with James about their strength before the Jury.
James points out that if Victor had put up Corey and Nicole on the Block then they wouldn't be in this situation. Paul agrees but says Victor's issue was being loyal to Nicole and Corey when they weren't loyal in return. James tells Paul they (Nicorey) did the same thing to him and he tried to warn the guys about that last week then they did exactly that very thing right back against Paul and Victor.
Paul tells James he loves Nicole and Corey, but he "ain't writing them a $500,000 check. I don't love them that much!" Paul is trying to convince James that "I have, we have a better chance" against each other than they do against either Nicole or Corey when it comes to that round table discussion. "Who has Corey pissed off?" asks Paul while saying Corey can completely wipe his hands clean of his entire season.
At 2:30 AM BBT Victor arrives and joins in the talk. Victor knows he's going but he's still willing to join in the talk and help persuade James to go against Nicole and Corey if he's in that position next round.
Their talks continue on the next page…