What a difference an HoH makes on Big Brother. Past few days had the Vets sweating a plan to target Frank for a Backdoor eviction but look at that. He's safe this week thanks to Bridgette beating out Paul in the final round. And we know how this would have gone if Paul won.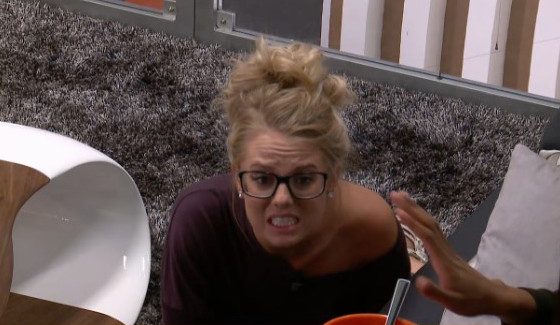 Bridgette is HoH but she isn't shy about letting Frank hold the wheel, or at least making it appear that way. She sat down with Frank for a private talk soon after the Big Brother 18 HoH competition was over and we've got their plans for this week's nominees.
No surprise. Tiffany is Frank's top target. He wants her gone, gone, GONE. And unless she gets the Veto on Saturday then I think we'll see that happen. But, Tiffany can't go up there by herself, so who will join her? Another easy pick.
Paul is about to make his third straight appearance on the Block as the pawn, but if Tiffany does pull off the Veto then he could end up in the hot seat. Right now though he's just filling a space.
Paulie joined the noms talk and suggested Bronte as an option, possibly even a renom, but Bridgette shut that down quickly. Remember they're the "Spy Girls" alliance. (Inside the house they call them the Power Puff alliance, but that's trademarked so CBS won't use it in their broadcasts.) Bridgette told the guys they'd need to evict Bronte on one of their turns so we shouldn't expect her to go back on that promise.
The Big Brother Vets along with Paulie, Zakiyah, and Corey were seriously stressing these noms, but keep in mind that while they're desperately trying to get Frank out he still has no idea what they're up to. He thinks they're all good and happy right now. Should that change, then so could the noms or renoms and big target, but even then he'll want Tiffany out. Even last week when Frank really wanted Tiffany out and she was vulnerable he stuck to the Victor plan. He's focused and unlikely to falter on this one.
Nicole and Corey got a heads up from Frank that they'd be safe along with details on Tiffany and Paul as the noms, but Nicole lied to Tiffany and said she didn't know if Tiff was a probable nom. Nicole wants to keep that a surprise so Tiffany doesn't have a chance to talk herself out of a nomination since that'd open a spot for Nicole to possibly fill. She's seriously stressing this.
It was a fun night on the Feeds and we should have some good times ahead this weekend with the Roadkill and Veto. Once we know who wins the RK then we can start up our speculation there too, but for now we can expect Tiffany and Paul as Bridgette's nominations for Week 3.
We'll keep watching to see when the nominations are made official and if Bridgette reveals any changes or final decisions on the plan before the Ceremony. Remember the noms will happen early to make space in the day for Roadkill later on Friday. Who do you want to see up on the Block this week?


Watch 1 Week Free! Only $5.99 per month thereafter. Sign-up now.