We have a new Head of Household for Week 11 of Big Brother 18 and that means it's time to start planning for the next round of nominations. Ready to find out who is going on the Block this week?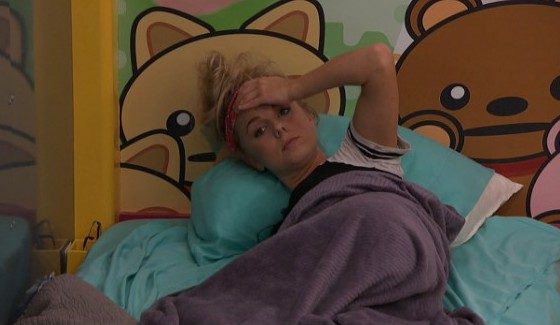 There aren't going to be a lot of surprises for most of us and with so few HGs left there's really no mystery for them either as the new HoH isn't hiding the week's plans.
Victor took control of the game on Thursday night after narrowly winning HoH in a four-way race with Corey, Natalie, and Paul. James was in no way in the running to win the latest HoH comp. Things were close and everything hinged on rolling a wobbly egg down a ramp. Hopefully this week's evictee doesn't focus too much on the absurdity of that aspect.
An impromptu, post-comp celebration between Nicole, Corey, Victor, and Paul drew a promise from the new HoH that none of them would be evicted this week and I believe he's sincere with that suggestion.
Victor has a target and the perfect number of HGs to put on the Block without having to use a pawn, unless things go south for him in the Veto comp. James and Natalie are in the hot seat and while Victor might want James out there's a chance he won't get his way.
Soon after the competition ended Victor confirmed the plans with Paul telling him that James needed to go this week. When Paul suggested Natalie was upsetting him enough to want her to go first instead Victor said that can't happen. He really wants James out this week but really that might not be up to them.
There are going to be three votes and with Victor as HoH then if there's no Veto change the votes would be controlled by Nicole and Corey's majority. They both want Natalie out this week instead of James. The question is whether or not they'd go against Victor to get their own target out instead. We've got lots of time to see how that goes.
Nicole started to worry overnight that she could end up a pawn on the Block, but Victor won't do that unless the Veto forces his hand and I haven't heard any talk yet on who would be the renom anyway. Though after Corey gave Victor the $5K Bribe I think that'd keep him down this week unless he volunteered for the role.
Both James and Natalie have begun promising the other they would save their partner with the Veto. Natalie told James there's no point in her staying since she'd just be the next round's target. James has countered that she has a better chance of recovering and moving on to the end. They were having these conversations when I went to bed and still again five hours later when I was back up.
If either comes down from the Block then the other will go home when Nicole or Corey goes up as the renom and his/her partner votes to save them and Paul joins them with his vote. That's getting a week ahead of ourselves though.
Right now we can fully expect Victor to put James and Natalie on the Block. Victor's target is James. Nicole and Corey's target is Natalie. Nominations will be set later today and then it'll be on to the Veto comp on Saturday.
We'll have the spoilers as soon as things are revealed on the Feeds. Download our Big Brother App, join us on Facebook & Twitter, and get our Email Updates for lots more Big Brother coverage.
Did you know you can get a Free Trial to check out the Live Feed in-house cameras for Big Brother 18? Watch any moment from the season both live and in the past with the Flashback feature. If you haven't tried the Feeds yet then this is your week to do it! It's twenty cents a day and the cheapest entertainment you'll find all summer.