A new Head of Household was crowned last night during the endurance competition that not only may bring a power shift to the house but also returned one of the formerly evicted players to the game.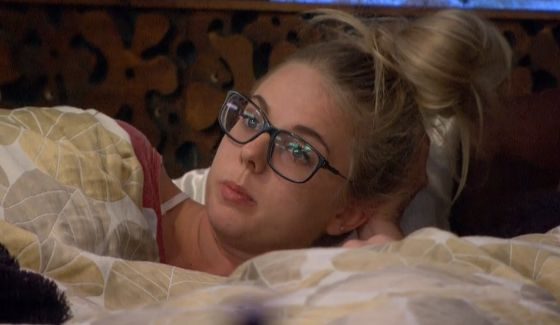 Initially things looked like we were about to get a rinse and repeat round of last week but settle in for this one because the new HoH is ready to set a new target and break deals if it comes to that.
Nicole somehow managed to talk James into dropping instead of winning his fourth straight Wall comp. Yes, production needs to ditch the overuse of that comp. Corey suggests James was about to drop and maybe he was, but he sure regretted it later as Natalie and he discussed their potential danger. They're right to be worried.
With all the deal making Nicole was pitching to James at the end of that HoH comp I thought for sure we'd see Paul or Victor going up this week but it looks like Nicole is taking a page from James's own make-a-deal-break-a-deal playbook. Soon after the comp Nicole told Corey that she would not put Paul up since he was encouraging her during the comp and she thinks they may need his help during an upcoming DE. So where is she going with these noms instead?
After much plotting and planning through the night we finally found Nicole and Corey alone in the HoH room to go through her plans for Friday's nominations. Flashback to 3:21 AM BBT 8/26 on your Live Feeds to watch. Get the Free Trial now & join the fun.
Nicole is explaining to Corey her strategy and it's actually pretty sound. I may sound surprised because she's spent the bulk of the summer laying in bed with Corey to the point that I wasn't sure if she was still aware of her surroundings.
She knows that Michelle is coming after her. There's no mistaking this as Michelle has made it clear time and time again ("Nicole is a snake!") so that makes this choice pretty easy.
Nicole's target this week is Michelle through and through but she knows if Victor or Paul go up then Natalie and James might end up voting one of those guys out instead. Nevermind that there are only four votes and she'd be the tie-breaker. Still no reason to take risks and that's very reasonable.
The plan is to put James and Michelle on the Block with Michelle as the target. Nicole says this will let her keep her promise to James that he's safe this week (though the deal was Block-free, not just safe) along with keeping Paul and Victor safe too. She'll get to have her cake and eat it too. Not a bad plan.
Nicole knows this next America's Care Package could throw everything for a loop so she's going to wait to formalize these nomination plans until this afternoon when the winner is revealed. But keep in mind that only Victor, Paul, or Corey could win it. Voting ends at 1PM ET (10 AM PT) so jump over to cbs.com and vote now.
Nicole told Corey she'll wait to see if this Care Package gives one of the guys the power to take over her HoH or something else crazy then she'll go from there. Since we know it won't change much of anything it's probably safe to say we'll see her plans uninterrupted giving her the opportunity to put Michelle and James on the Block with Michelle as her target.
Now something else worth noting is that Nicole says she's completely okay with James going this week but Michelle is her target. This opens us up to some interesting possibilities where Paul or Victor could end up using the Veto on Michelle to give Nicole a clear path to putting Natalie up and sending James out the door. Or by the end of the week we just might find Victor back up there and heading out for his third eviction. You never know with as crazy as things have been, but we'll keep watching.
Updates from the Feeds today are changing up their plans. More details on the next page…