Big Brother isn't always a very nice game, but it's surprising sometimes how the smallest of things can trigger an avalanche of chaos in the house. Last night that small thing was then length of Natalie's pants. Victor wasn't a fan. It all takes off from there.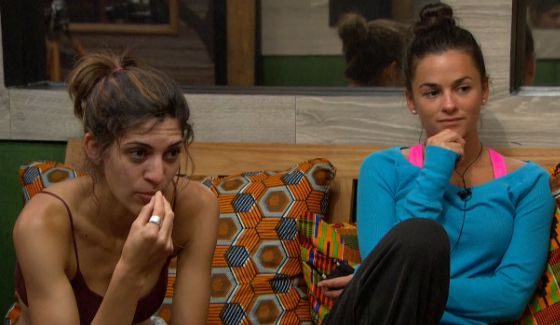 The Revolution has been riding high in Fantasy Land and that cloud dipped a bit lower last night after infighting opened their eyes that maybe all wasn't as good as they thought. Now Jozea is nervous after a round of arguing left the group in turmoil, something that Bronte was sure to encourage. It was also a rough night for some bad commentary, so steer clear if you'd rather not read about that.
Flashback to 1:30 AM BBT Cams 3/4 on your Live Feeds (get the Free Trial).
Natalie is in the back bedroom along with Bridgette, Bronte, Tiffany, and James. She's upset and getting support from the group. They joke that it's time for "girl talk" and James is in hog heaven. Victor's comments are the topic of discussion.
Natalie explains that Victor said, "eww, I hate when people walk on their pants" as he pointed at her pants which were apparently a little too long for her. Natalie said the pants were from her aunt who passed away. Victor said that has nothing to do with it so she shouldn't try to make him feel bad about it. There's the backstory on what set this all off. Now for the reactions.
Move forward to 1:40 AM BBT and you'll find Jozea who has joined the room. There were Fish beforehand so we missed some of their talk. He's trying to calm Natalie who says she wouldn't be upset normally, but it's a pattern of behavior from Victor. James chimed in about the repeat behavior as well. She says Victor is rude to her daily and she doesn't like it.
Jozea heads back to the Lounge (1:43AM BBT) where he finds Paul and Victor who were just saying the girls get to make comments but if the guys do it then they are the jerks. He comes in and says that James is fanning the flames back there. Jozea says Bridgette is so annoying and he wants to "punch her in her face."
Victor goes back to Natalie's room to get her and apologize. They go to the Lounge and chat it out. Victor says he just meant his comment to be about her risking getting dirt on her pants. Seems a little flimsy of an excuse, but he's using it. Natalie says he nit picks at her every day and she's used to people being nice to her. She wants him to stop. They hug it out and she goes back to her bed.
Move again to 1:54AM BBT as Natalie is relaying the conversation to the back bedroom when Paul comes in. James jokes "we're having girl time" and Bridgette repeats the same thing. Paul gets upset and says he'll cut off his penis. Bronte gets up and escorts him outside where Victor and Jozea are pacing while huffing and puffing.
If you rewind a minute and move to Cams 1/2 you'll find Jozea and Victor outside. Victor thinks Jozea is overreacting. Jozea says he's upset at Bridgette and her "feminist power" thing. Hold that thought. Paul and Bronte have just arrived.
Jozea gets ready to complain about what happened when he came to visit Natalie when Paul interrupts that he's even more upset. He says he'll scream if he gets told "it's girl time" again when he comes in to a room. Paul says he's "constantly getting s**t on" because he's not a girl.

Here's something weird. At 1:56AM BBT Cams 1/2 Bronte asks Victor if he asked Nicole on a date because that's what James is telling everyone right now in that bedroom. This is definitely not true. My guess is this is part of her preseason strategy to cause chaos using the showmances. The guys all get very upset about James.
Seems like Bridgette has a lot of face-punching coming her way from these guys. Paul exclaims that if Bridgette again tells him "it's girl time" he's "going to punch her in the face." Stay classy, Paul.
Victor says he'll go squash James's Nicole date rumor right now. Bronte pleads for him not to do so. That'd be because James didn't say it and she would be exposed. She's lucky he didn't pursue it. Bronte doubles down on her lie and presses on.