You can tell the Big Brother 18 game is starting to wind down because the Live Feeds were even more quiet than usual Sunday. There is something afoot, however. James has accepted his fate, but little does he and Natalie know that the others have something else in mind this week. Oh, and there's still plenty of showmance bickering. Read on to find out more.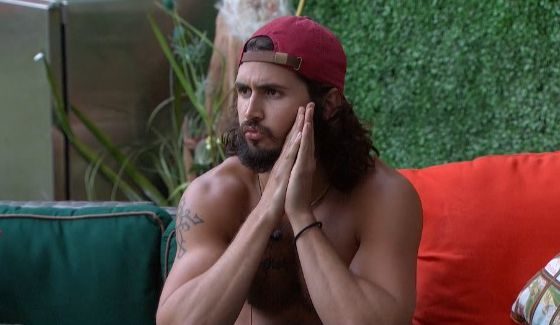 If you've got the Live Feeds (Free Trial) then you can watch all of these moments with the Flashback feature to go back and watch those important conversations or funny scenes you may have missed.
Big Brother 18 Live Feed Highlights – Sunday, September 4, 2016:
11:00 AM BBT – HGs starting to get up for the day.

11:30 AM BBT – Victor and Paul discussed whether or not to vote out James or Natalie. They both worry that James has been throwing comps and could come at them strong if they keep him. They also worry Corey might be holding back on how well he's been performing.

11:55 AM BBT – Natalie comes to talk with Victor and Paul about keeping James and sending her out. Natalie says she'll play to win if they keep her. After she leaves Paul says he thinks she's trying reverse psychology on them after yesterday trying to convince them that James was the guilty party in a bid to stay.

12:30 PM BBT – HGs hanging around outside in the backyard relaxing and tanning.

1:05 PM BBT – Natalie is getting agitated with James and says they should just be friends.

1:15 PM BBT – Natalie goes to apologize to James. She wants them to enjoy the week together.

1:30 PM BBT – Corey, Victor, and Paul laugh about Nicole and James trying to tell them to vote them out this week.

2:15 PM BBT – Nicole is certain Michelle stole some of her make up. HGs discuss not liking Michelle's attitude and especially how she also stole Pablo from Paul.

2:45 PM BBT – HGs trying to figure out if Michelle really was related to Dan or not like she claimed on her way out. Nicole believes they are related. (They are not, as confirmed by Dan G.)

4:10 PM BBT – James and Natalie relaxing in the hammock together after having made up from their earlier fight.

4:15 PM BBT – Nicole with Victor and Paul discussing James and Natalie's relationship. Paul thinks Natalie is faking it with James and angling for AFP. Victor jokes with Nicole that if Corey doesn't want to marry her then he will. Paul offers his hand in marriage as well.

4:20 PM BBT – Paul mentions being coached by DR on how to deliver his talks as they want more attitude with it.

5:00 PM BBT – Nicole is crying and stressed with Corey due to something that happened between them while the Feeds were off. Nicole continues to stress and Corey sits quietly waiting for her to stop. Nicole mentions to him she's so emotional and hasn't had her period in three months.

5:10 PM BBT – Corey now frustrated with Nicole for making a scene in front of everyone and possibly something that goes in the show.

5:15 PM BBT – Corey goes outside and talks with the guys about Nicole being so upset. Victor and Paul agree that she was really angry earlier. (We still don't know exactly what happened.)

6:22 PM BBT – Natalie jokingly (or passive aggressively) accuses James of throwing the veto competition. She says he should've done better since he was in the military.

6:25 PM BBT – HGs are AGAIN discussing who will get America's Favorite Player.

7:30 PM BBT – HGs hanging out and chatting.
Feed Highlights continue on the next page…