The Big Brother 18 house went a little crazy Friday night after Natalie and Michelle ended up regretting their nominations, and Paul decided to fight for his game and call out Nicole and Corey.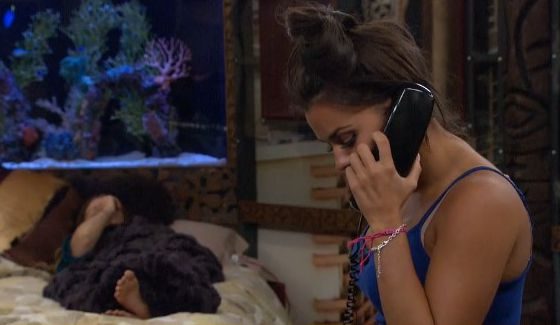 If you've got the Live Feeds (Free Trial) then you can watch all of these moments with the Flashback feature to go back and watch those important conversations or funny scenes you may have missed.
Big Brother 18 Live Feed Highlights – Friday, August 19, 2016:
9:15 AM BBT – HGs had their wake up call. Natalie changes her battery but the rest are sleeping.

10:40 AM BBT – Paul checks in with Natalie that they're good this week. Natalie lets James know that Paul keeps asking.

10:45 AM BBT – Victor and Paul worry they're in trouble with that Care Package.

12:00 PM BBT – Nicole is up for a bit and then heads back to bed.

12:30 PM BBT – Natalie details to James her frustration with her photos after having carefully selected the ones she wanted.

12:35 PM BBT – Natalie wants to get Paul out. She believes that is the smartest move for their game.

12:45 PM BBT – Care Package revealed: Michelle won Co-HoH.

1:00 PM BBT – Natalie working on Michelle for getting her to want Paul out instead of Nicole.

1:10 PM BBT – Michelle expresses concerns over trusting Nicole & Corey.

1:15 PM BBT – Michelle agrees with Natalie to go after Paul and make him their target this week.

1:20 PM BBT – Natalie promises Nicole and Corey that they'll be completely safe this week.

1:35 PM BBT – Natalie is offended that Paul says "I swear to God" but is an atheist. She considers that wrong. Nicole offers to be the renom if needed.

1:50 PM BBT – Nicole and Natalie discuss deals. James is there just observing. Natalie wants safety from Nicole & Corey in exchange for it this week.

2:00 PM BBT – Corey now offering to Nicole that he'd be the renom if needed. Nicole mentions she offered as well then says it would be better if Corey did it instead of her.

2:05 PM BBT – Natalie comes by Nicole & Corey's bed of day dwelling. Nicole calls "girl power!" and Natalie returns the rallying cry. Corey doesn't say anything.

2:15 PM BBT – James advises Natalie to wait until just before it's time for the nominations.

2:30 PM BBT – James tells Natalie to make sure Victor doesn't think he's the target, but maybe they could later make him the target.

2:45 PM BBT – Michelle gets her HoH room. She had hoped to get the Paris room, but she's sharing a room with Natalie.

4:09 PM BBT – Paul and Victor realize they're not in the best spot in the game at the moment but hope Nicole and Corey are in the worse spot.

4:20 PM BBT – Natalie and Michelle talking about nominations. Natalie doesn't think Victor would come after them but thinks Paul would. Michelle tells Natalie that her original thought was that she wanted Nicole out. Before long Natalie has Michelle on board to target Paul. Michelle says he's someone she always had in the back of her mind to go after since he's playing such a great game. They don't want to put up Victor but know they have to so he won't be able to save Paul.

4:24 PM BBT – Paul and Victor think one of them is "boned."

4:48 PM BBT – Natalie has Michelle on board with nominating Paul and Victor. They decide to let Victor know at the last possible minute.

4:50 PM BBT – Victor heads to the HOH room and they fill him in on the plan but tell him he's not the target. Victor is confused as to why they changed their minds about targeting Nicole and Corey. Victor asks why they can't put Corey and Paul up, expressing his concern over getting voted out instead of the target. Victor sticks up for Paul and wants them to reconsider their final 5 deal.

5:03 PM BBT – Feeds cut for the nomination ceremony.

7:14 PM BBT – Feeds return. Paul and Victor have been nominated. Paul is baffled. Paul says it's time to F things up and they better hope he doesn't win veto.

7:15 PM BBT – Paul asks Natalie to hook him up by telling him what he lied about. Natalie tells him she'll talk to him when he's not so upset.

7:16 PM BBT – Nicole thanks Michelle for not nominating her.

7:19 PM BBT – Paul explaining to Michelle that he never said he was an atheist (apparently she mentioned his beliefs in the nomination ceremony). Paul goes on to ask everyone what he lied about. No one is saying anything. Now Michelle is talking about Paul knowing about Da'Vonne getting evicted. Both girls are grasping at reasons for why they made their nominations but aren't coming up with anything.

7:20 PM BBT – Paul is offended they bought what Paulie was selling them. He's also very offended by the speech Michelle made about him.

7:24 PM BBT – Natalie tells Paul she's been upset about the "FT" comments he and Paulie made about her.

7:30 PM BBT – Michelle feels stupid about calling Paul an atheist and hopes it doesn't air.

7:35 PM BBT – Michelle is already regretting their hasty decision with these nominations. Michelle says she wants Nicole and Corey targeted next. Natalie and James say that's fine and that's what they'll do.

7:45 PM BBT – Paul and Natalie talking calmly in the HOH room now. Paul tells her he was committed to her. She tells him she didn't think he really was. Paul tells her he wishes she would have come to him about the things she was told by Nicole and Corey. He can't believe she trusted them. Paul goes on and on about how he was devoted to the five and Nicole and Corey just played them. Paul asks Michelle why they'd go with the people who haven't even approached them with promises and deals.

7:58 PM BBT – Natalie tells Paul she did trust him until she heard that he was throwing James under the bus from Nicole and Corey. She said she's very protective of James.

8:01 PM BBT – Natalie finally tells Paul that regardless of what went down he is still a threat.

8:03 PM BBT – Natalie says if they made a mistake they can still backdoor Corey. Paul tells them they blew it.

8:06 PM BBT – Paul remains baffled and tells them that if he leaves then not to trust Nicole and Corey and to instead stick with Victor.

8:08 PM BBT – Natalie is crying. She regrets winning HOH and making this decision to nominate Paul and Victor. Paul tells her he didn't come talk to them to make her cry and to just stand by her decision.

8:14 PM BBT – Paul lets Natalie know that he has info on Corey concerning her. She asks him what it is but he will only tell her it's something he said about her. Later he implies it was about Corey and Nicole thinking Natalie is only using James (this is true, they have said that).

8:20 PM BBT – Natalie and Michelle both regret what they've done. They're now discussing backdooring Corey.

8:30 PM BBT – Paul and Victor meet in the storage room with a hug. Paul tells Victor that he has the girls regretting their decision and they're considering backdooring Corey.

8:35 PM BBT – James tells Natalie and Michelle in Big Brother it's never a good idea to change your mind once you've made a decision (WHAT??). Michelle says they just changed their mind about going after Nicole and Corey, implying what James just said makes no sense.

8:36 PM BBT – Michelle admits to Natalie that she wanted Nicole and Corey up but didn't want to mess up Natalie's HOH. Natalie tells her it's her HOH too and she should have told her what she really wanted. Michelle calls Nicole a snake and says she wants her gone this week.

8:37 PM BBT – Nicole and Corey get nervous and go break up the HOH discussion.
Feed Highlights continue on the next page as the house heats up…