It was Veto Day in the Big Brother 18 house and the weather may have kept the Houseguests waiting longer than expected for the return of OTEV. Yes, Frank had his chance at redemption after falling victim to OTEV last time around, but could he pull it off? (Note: Heath Luman says delay was for lighting.)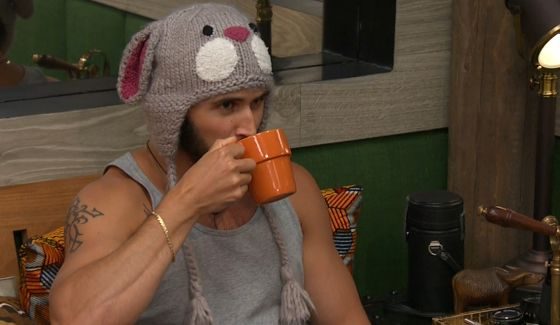 The competition was held late and night and it got the adrenaline pumping in the house because the whole place seemed wide awake and ready to boil over as I settled in to finish the report.
If you've got the Live Feeds (Free Trial) then you can watch all of these moments with the Flashback feature to go back and watch those important conversations or funny scenes you may have missed.
Big Brother 18 Live Feed Highlights – Saturday, July 23, 2016:
9:40 AM BBT – HGs got their wake up call.

9:50 AM BBT – Paulie reveals to Frank he's in more trouble than he realizes and the house will vote him out if he's still on the Block come Thursday night. This Veto will be critical for his BB18 survival.

10:06 AM BBT – Cameras zoom in on the Big Brother Airlines plane. If you look closely you'll see "CALL" in small letters in the windows of one side and "PARIS" on the other. That's the clue for HGs to dial #211 on the upstairs phone to gain access to the secret room and a special power.

11:00 AM BBT – Natalie says if she's drawn to play and wins the Veto then she'll use it on Bridgette.

11:10 AM BBT – Bridgette is feeling discouraged and suggests her game is over as she can't win out at this point. Frank is adamant that she not throw the comp to him. He wants her to play hard and win for herself today.

11:15 AM BBT – Natalie suggests Big Brother is mostly luck. Frank tells her it isn't. There's skill involved.

11:25 AM BBT – Natalie continues to encourage Bridgette to fight this week and try to work things out with the other girls who have turned against her. Bridgette suggests it's not likely to regain them.

11:35 AM BBT – James and Bridgette are talking. James feels bad about putting her up, but says there was a lot of pressure for him to do it. He says he's open to a different target this week if things change today.

12:20 PM BBT – Bridgette says she couldn't do Big Brother twice and is surprised Nicole left a good job to come do this.

12:35 PM BBT – Bridgette lets Natalie know about the Fatal Five alliance from what Tiffany told her. She also points out that it's worrisome how James did what the house wanted this week with his noms instead of making his own choice.

2:20 PM BBT – Feeds are back from over an hour of Loops so the players could be drawn. Michelle, Da'Vonne, and Nicole were added to the players list today. None have won an individual competition this season and only Nicole has ever won a Big Brother comp between the three.

2:30 PM BBT – Michelle warns Da'Vonne that Victor was told by Tiffany to trust Frank and not Da'Vonne.

3:00 PM BBT – Frank and James are joking about potential punishments if it's the prize-swap Veto comp today. There's been guessing that it might be this style PoV.

3:20 PM BBT – James and Paulie reaffirming their want for Bridgette and Frank to be split up this week.

3:40 PM BBT – Frank tells Bridgette that whoever stays should go after James and Da'Vonne next week.

4:10 PM BBT – Frank reveals the Vets got a flat fee to return this season rather than a stipend like newbies receive. If they make it to Jury then they'll receive more earnings.

4:15 PM BBT – Bridgette tells Frank she isn't sure it's worth her staying if they are both on the Block come Thursday. Frank jokes around that he needs a special power from the viewers this week.

4:15 PM BBT – James and Da'Vonne talk renom options. James wants to be careful that they don't put up a more tempting option than one of the two current noms. He's think Michelle might be the right pick from the renom if it's needed.

4:25 PM BBT – Nicole and Frank meet up in Storage. Frank doesn't think they can successfully take a shot at Da'Vonne this week. Frank swears he wasn't coming after Nicole and he wants to work with her and Corey. He says she needs him like he needs her right now in the game. Frank shares what he discussed with Bridgette, that they'd nominate Da'Vonne and James next week.

4:35 PM BBT – Corey has joined. Frank again promises Nicole he would work with her if he stays this week. Frank asks Nicole not to try and beat him in the Veto so he can save himself.

4:45 PM BBT – Frank relays back to Bridgette that Nicole may help them this week. She reminds him that Nicole has not been helping their game for awhile now.

5:15 PM BBT – Frank jokes that if he gets voted out he'll hug Bridgette and dodge the rest of the HGs just like he did on BB14.

6:00 PM BBT – James and Natalie hanging out and chatting. Not much going on.

7:20 PM BBT- James wonders if he should renom Nicole instead of Michelle and whether or not Nicole is secretly working with Bridgette.

8:20 PM BBT – Frank and Bridgette doing a pep rally. He says how great it'd be to win the Veto and disappoint everyone else in the house.

8:40 PM BBT – Feeds cut for the Veto comp.
Updates continued for the second half of the night following the Veto results.