CBS has released to us the first details on the summer's Big Brother 18 Live Feeds coming up next month when the new season debuts on June 22nd including the Big Brother cast reveal date.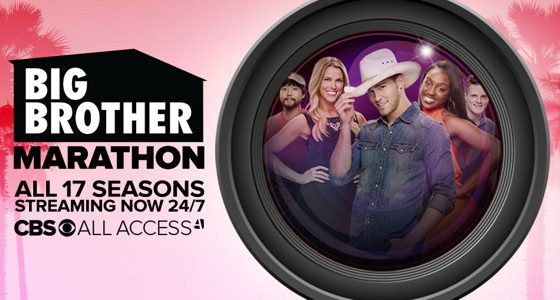 We talked with CBS today and learned a lot of key dates and details about the Feeds including when we'll meet the Big Brother 18 cast and the launch of a Big Brother marathon on All Access!
Once again this year CBS is offering up the Live Feeds as a way to watch Big Brother in real-time as it happens via dozens of cameras and microphones around the BB18 house. We'll be able to watch the Houseguests plot and plan their next moves, developing showmances, and even big endurance competitions for Head of Household. Here's what we know so far on what's coming our way.
Big Brother 18 & Live Feeds Key Dates:
First up is the Big Brother Marathon that has taken over the usual BB Live Feeds in All Access. They're playing every episode of every Big Brother season back to back starting this morning through June 9th. If you missed any of it you can jump back to specific seasons or episodes in the All Access archives.
Cast reveal is going to be awesome. We really liked how they rolled it out last year with the Feeds while our interviews were taking place so we could live Tweet the event and meet them together.
So yes, we'll get the Feeds starting up after the second episode of the season like we've seen the past few years. Let's hope that doesn't mean any sort of "fan favorite" BotB, right?
More important details on this season's Live Feeds on All Access:
Price will be $5.99/month after one-week Free Trial
Stream your Feeds on Apple TV, Roku Players, Chromecast, Android TV, Fire TV, and Xbox 360
Watch Big Brother episodes live stream in All Access (depending on market)
Unfortunately Canada is again not able to sign up directly since All Access is still US-only
Jeff Schroeder will be doing eviction interviews
You can support our site directly at no cost by simply signing up for the Feeds' Free Trial through the links and banners here on the site. That earns us a referral credit which keeps our site running and the writers paid. Your support is what makes this fan community possible so thank you for your help!


Try 1 Week Free! Only $5.99 per month thereafter. Sign-up now.
Want more Big Brother? Download our app then join us on Facebook, Twitter, and get our Email Updates for all the Big Brother 18 spoilers, updates, and news all summer long.