Remember yesterday's facepalm moment for Da'Vonne telling James she was after the showmances, oh but not his of course? I called it a bad move at the time and it didn't take long for that to return to the storyline as James did indeed report her words back to one of the targets.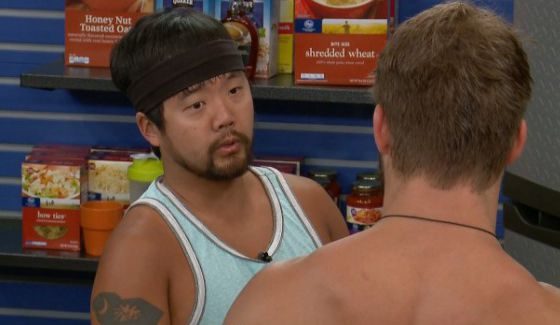 Now some would argue that James isn't in a showmance, but that would require you to ignore James's perspective on the matter. As far as James is concerned he and Natalie are a showmance so when someone says the couples need to be split up he takes that as a potential strike against his own safety. Let's go to the Feeds.
Flashback to 3:09 AM BBT 7/20 Cams 1/2 as James and Paulie are alone in the Storage Room.
James lets Paulie know all about what Da'Vonne told him earlier in the day. Read the full write up here for the backstory and details that James doesn't have the chance to share now.
James says he doesn't want to hold back any information but when "Z Baby" walked by Da'Vonne pointed out at her and said they needed to get these couples out. Paulie says he knows Da'Vonne is coming after him. James isn't sure Day is coming straight after Paulie and Paulie suggests she may be trying to "put it out there" to get others to come after him.
Interestingly Paulie mentions that he's "on the fence about Day" and "skeptical" as to whether Tiffany or Day should go this week. Paulie says it's not just him and "a lot of people." James's eyes light up and go wide open. James is surprised and says he didn't realize that was going on. Paulie shares back that Day has been saying the same thing about Corey and Nicole.
Paul walks in at this point and James asks what the plan is since he just discovered that it might not be solidly against Tiffany. Paul is completely focused on Tiffany, but Paulie cuts in that there are suspicions about Day.
Paul balances the Da'Vonne and showmance issue by reminding the guys that Frank also said the showmances would need to be broken up, but he didn't name names specifically except when discussing Double Eviction plans with Paulie and Corey going up side by side.
Continued talks suggests Frank remains a top target, but Da'Vonne is growing on the priority list and may become an acceptable substitute should Frank win his way to safety.
It's still interesting though for Paulie to suggest uncertainty over who should be going this week, a question that Paul doesn't seem to share as he's set on Tiffany. There's still time for another vote flip if Day continues to talk more than she should while sitting in a very vulnerable state. Do you think she could end up evicted this week or will the group not miss another chance with Tiffany this Thursday?