After getting a teaser yesterday the Big Brother 18 house theme and first look pics are out in the wild after ET took its tour yesterday of the BB18 destination.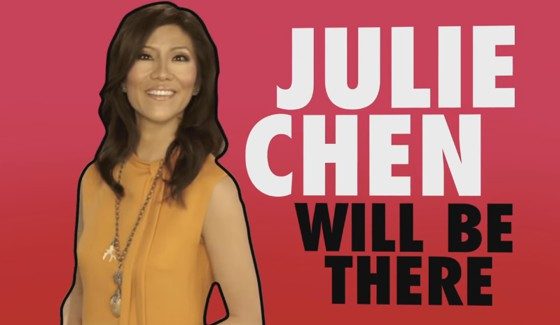 The theme for Big Brother 18's house has international locations along with a travel theme plus one very interesting choice for the bathroom that left me scratching my head.
So far these details come from ET's tour video and we might be waiting on the official CBS photos of the new Big Brother house, but so far it looks gorgeous overall and should be great fun as our summer setting of BB18!
When we saw Kevin Frazier entering the house through double doors I was trying to figure out where that house had double doors. Well, it didn't before but now it does as the main entrance is twice as big for this season, "but first" there's more to see.
The overarching theme has air travel with plane featured wall paper for the kitchen and an airport for the second tier setting of the space. The full size dining table even features a compass on its lazy Susan center tray. The island looks pretty standard with a few seats there and along the breakfast bar.
For the bedrooms we've got Japanese anime filling the main open bedroom which uses a phone booth to enter a British themed side bedroom. No peek of the Have-Not room, but that usually starts out as a regular bedroom before being converted over in the first week. Upstairs we've got a Hawaiian themed HoH bedroom with an awesome fish tank over the large bed. Guess that'll be our fish cam source at times for the Feeds.
Outside in the backyard there's a mountain and forest wall art along with the new turf and freshly installed pool that brings the swimming and hot tub together in one large spot. Looks great, but I'll miss those times where HGs circled the spa for late night chats.
That leaves the beach themed bathroom which appears to have the floor covered in sand. Lots of sand. Which is great because who doesn't want to step out of the shower and get sand stuck to them and then carried everywhere through the house? Perfect, right? Blerg. Any guesses on how long before that gets vacuumed out of there?
twitter-tweet" data-lang="en">

First Glimpse At The New #BB18 House! pic.twitter.com/tNEugaEpMv

— BigBrotherJunkie (@89razorskate20) June 1, 2016
twitter-tweet" data-lang="en">

The leaked #BB18 house photos show the "Travel/World" theme! pic.twitter.com/OkPOaRQAmz

— BigBrotherJunkie (@89razorskate20) June 1, 2016
And yeah, it's a bit of an unfortunate overlap with the whole international Big Brother HGs theme that BBCAN4 just ran this past season, but I think that's just a coincidence and won't play in to the season's twists. These house designs are likely decided well before the season's plan is finalized.
What do you think? Share your thoughts below as we close in on the Big Brother premiere in just three more weeks! Find us on Facebook, Twitter, and get our Email Updates for more Big Brother news.