Things feel close to the end of the Big Brother season when a mere three votes are in play to decide who stays and who goes and that's just what we've got this week after the final noms were decided at Monday's Veto Ceremony.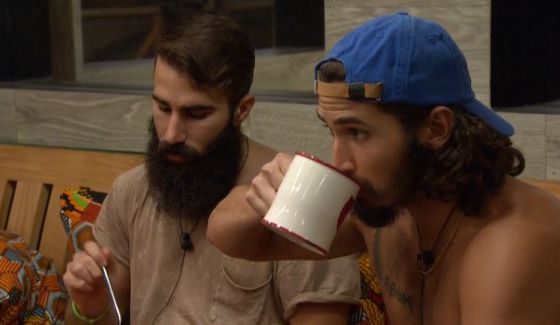 There was actually an interesting back and forth over who would take the renom position but ultimately it didn't really matter. Baldwin the Eagle could have been the renom and we'd have the same result on Thursday night as the new F4 take control of Big Brother 18.
Corey has joined Victor on the Block and it'll only take two of those three available votes to send one of them out the door. Ever since Saturday night it looked like that target would be Victor and nothing has changed.
Leading up to that renom Michelle was struggling with her desire to send Nicole up and out, but I suspect she knew there was no chance of getting James to vote out Nicole. Especially not after Nicole and James had to publicly admit they couldn't buy each other gifts like they had discussed. That's gotta stir up a lot of concerns and stark realities for the other HGs of the depth of James and Nicole's commitment to each other.
So with Nicole off the table for eviction Michelle went with Corey who would at least briefly cover their tracks of targeting Victor. I don't think that lasted very long though.
Now we've got three votes ready for Thursday and everyone seems set on how things will go. At this stage I don't expect any more flips like we had from the previous few days when it seemed possible that Natalie was convinced again to trust Victor and Paul enough to send Corey out the door. That plan has been discarded.
Nicole is never going to vote against Corey. It won't happen. She told him yesterday that she'd vote for him in F2 even if he cut her along the way. This girl is in way too deep and she has no reason or cause to turn on Corey. Nicole will vote against Victor.
Paul needs an ally and he knows he's about to lose one but all the same we can expect Paul to vote against Corey. Paul and Victor have discussed at length the past few days how the game has shifted against them after a brief flirt with control. Of course they did spend 3 out of 4 straight weeks controlling the HoH but the quiet bystanders have now yanked away the reins.
It all comes down to James and he knows it. Originally the plan was to vote out Paul but now with Paul off the Block James is ready to settle for Victor. Natalie feels bad about this and told Michelle she could still control James's vote on Thursday if they decided to change plans, but I doubt her abilities on this one. James knows it's best for his game to eliminate a threat like Victor over an ally like Corey.
When the votes are revealed we'll have 2-1 against Victor with Corey remaining in the house. Of course this doesn't mean Victor's game is over thanks to the returning Juror twist that will arrive on Thursday night and send one of the first five Jurors back in to the game.
How do you think the votes will go? Is Victor a lock for eviction or could James be swayed back again?