Last night brought an evicted Big Brother 17 Houseguest back in to the game, but would that Juror soon become the next big target just like we saw happen in the previous season?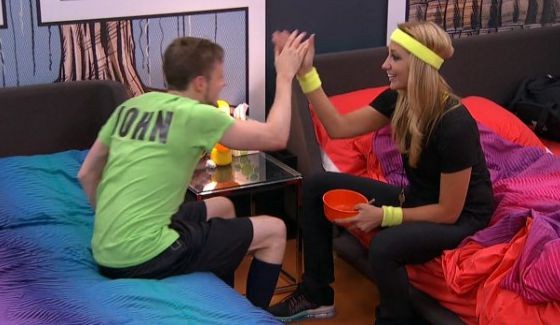 The agreed upon deal for several of last week's surviving HGs was to go after the player expected to return in Thursday night's competition. Now that it's over some are still hoping that'll happen, but they may end up disappointed.
It was the Austwins' worst case scenario to see Johnny Mac win the Juror Revival last night and their immediate knee-jerk reaction was to ask for his prompt and swift removal via the Block. Vanessa has a better idea, how about no?
Yes, it looks like John may fare better than Nicole Franzel did last year when she returned only to commit the grave error of commenting on what a strong game Derrick Levasseur was playing. Oops! This time around though the returning Juror is already being integrated as part of a plan.
Flashback to 7:48 PM BBT 8/27 as Vanessa talks with Steve about John. Steve is clearly on edge and doesn't want to get tangled up again with playing too close to John so he immediately says he's not sure he trusts John. Vanessa says she actually wants to work with the two of them together. Why? Together the three of them could go against the Austwins.
Vanessa tells Steve that she believes him, her, and John could beat the Austwins in any competition. Hmm, interesting. Now let's not get ahead of ourselves and I'd hedge my bets that Vanessa is hedging her own by setting up both sides for cover, but that's a discussion for later.
Steve heads back to talk with John where they celebrate his return. Flashback to 7:52 PM BBT. Steve wants to know what John thinks about Vanessa and I'm sure that flows from what she just said to him. John is all aboard for the Vanessa situation. He tells Steve he trusts Vanessa and after last week's talks they buried any past issues. Steve says they'll need to talk later but for now to continue acting distant.
Move ahead to 8:23 PM BBT as Vanessa heads back to talk to John alone. She wants to know what was going on with the HoH comp where he seemed to reject her deal. John tells Vanessa he was going to fall but didn't want to accept her offer publicly. Better to keep that one between them, John suggests.
Vanessa tells John not to worry and he's good with her this week and tells him they need to keep the facade of a feud going. John informs her that the audience loved to hear that he and Vanessa are working together after everything they're going through. Now I think the crowd was fired up for John and he was fired up from the experience, but I'm sure that comment to her won't hurt his chances.
Before she leaves the room Vanessa tells John that everyone assumes she's going to put him up. "They have no idea what's going to happen. It's going to be crazy." Yeah, it's going to be a big surprise for two Houseguests and you can read more about the nomination plans here.
So as of now, John looks safe and won't be one of the two nominees. I wouldn't say he's totally in the clear this week though. Should something fall apart with the Veto and one of the noms get it then he could end up on the Block with Vanessa's limited options. We'll find out more on that potential with Saturday's PoV competition.
What do you think of John's situation? Should he trust Vanessa and Steve again? Will they flip on him for the Austwins by the end of the week? Share your thoughts.