Julie Chen returns to host as we discover who went home last night when the Houseguests went back inside the Diary Room to cast the latest vote on Big Brother and evict the next nominee.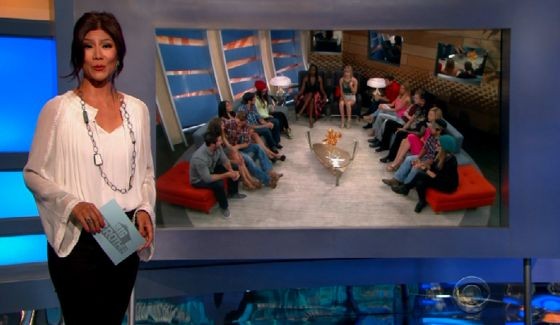 Houseguests Da'Vonne Rogers and Meg Maley were in the unenviable position of awaiting their fate and the official vote from Julie, but it wouldn't be that simple when the Last Laugh twist hit.
Three votes will be eliminated tonight on Big Brother 17 as part of Kathy Griffin's final visit to the house. We'll watch as the Houseguests take turns answering the phone and one of them is awarded this special "Last Laugh" power, but will it be enough to shift the votes and change tonight's plans?
The phone booth arrives as the Houseguests prepare to each take a phone call filled with zingers, well kinda. When the 7th call arrives Da'Vonne is there for the special power to be awarded. She keeps a straight face until it's over and lets Jason know they need to start working on it.
Julie Chen reveals the next Big Brother Takeover twist will be delivered by Rob Gronkowski because, um, CBS airs NFL I suppose. No word yet on just what the twist will be but we'll know more soon.
We've arrived at the Twin Twist segment. Da'Vonne has discovered Liz Nolan is playing with her sister last night. This happened on Monday just after the Veto meeting and last night Julia admitted the truth to Vanessa and has joined the Sleeper Cell alliance with Shelli, Clay, and Austin. Everyone but Audrey knows about the Twin Twist.
Last Laugh has arrived and Julie informs the three HGs who were nullified: Jeff, Jackie, and Becky. The rest of the will vote now.
Join us on Facebook, Twitter, and by Email for our updates and keep this page refreshed as we live recap tonight's eviction episode of Big Brother 17.
Big Brother 17 Week 2 Votes:
Jason votes to evict Meg
Clay votes to evict Da'Vonne
John votes to evict Da'Vonne
Audrey votes to evict Meg
Austin votes to evict Da'Vonne
Julia/Liz votes to evict Da'Vonne
Vanessa votes to evict Da'Vonne
That's enough. Da'Vonne has been evicted.
James votes to evict Da'Vonne
Steve votes to evict Da'Vonne
By a 7-2 vote, Da'Vonne Rogers has been evicted from Big Brother 17.


Gronk announces it's party week for his BB Takeover and he won't be having any Have-Nots this week, but he likes winners so it's time for everyone to head to the backyard.
The remaining Houseguests, minus Shelli as the outgoing HoH, will compete to become the next Heads of Household. A win here won't insure safety though as the Battle of the Block can knock either of these HoH's back to the danger zone.
Big Brother 17 Week 3 Head of Household Comp – "Gronk Pong":
Houseguests have to launch a ball in to giant solo cups to score points.
click images to see full-size views:
James and Audrey are tied at 23 while Audrey gets a 17 and Clay a 6. John and Jackie both missed. Jeff gets just 14. Becky elaborately flings the lever and completely misses.
Austin takes the lead at 28. Jason misses and gets a 0. Meg lands a 1. Steve bounces off 28 to nothing. Vanessa ties at 23. Tie breaker!
Tie-breaker: Julia gets 22. James gets 35. Vanessa gets 52.
HoH 1: Austin
HoH 2: Vanessa
Congrats to Austin & Vanessa. Looks like the Twins Twist will survive another week!
When tonight's episode ends we'll be racing back to the Big Brother Feeds to watch the live fallout from the HoH comp. Join us on there with the Feeds' Free Trial & see what the fuss is all about.