The stage is set for the Big Brother 17 Power of Veto competition today and the players have been picked. Now the house is shifting in to position for their next big move.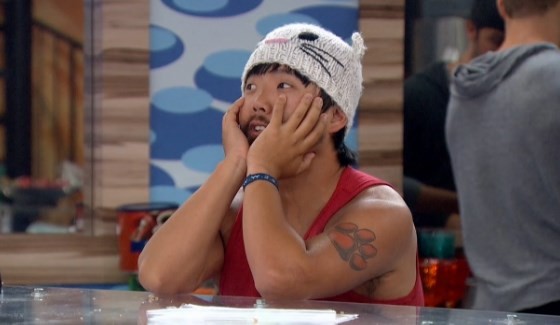 Vanessa and Austin were the initial HoHs this week and they've continued to work together towards Thursday's eviction, but the Veto is their last obstacle in a perfect execution of their wishlist and that's coming up today.
The Veto players were picked and we have Audrey (drawn by James), Austin (HG Choice by John), and Shelli (drawn by Vanessa). Yikes for James. Vanessa and Austin were shocked at how well that players-pick went for them. "Perfect!" declared Austin.
The odds are stacked against James with 5:1 working against him here, but his outlook could improve. Austin and Vanessa want their side to throw it to Audrey if possible. If they're not careful and throttle back to much then James might beat out Audrey. Although, after what sounds like a miserable BotB performance his game might just be too off.
John visited Austin and Vanessa and they promised him they'd use the Veto to save him if they won, but they have no plans of letting that happen. Should things fall apart and one of them happens to win then Vanessa plans to try and convince John he's safe on the Block against James. Uh oh, John.
Things have gone crazy in the house this afternoon too. Vanessa is trying to set the stage for not Backdooring Audrey like everyone expected. Her master plan was to catch Meg in a lie about Audrey so she could use that as "we can trust Audrey." It didn't go so well.
Flashback to 1:12PM BBT on your Live Feeds or grab the Free Trial now to start watching. Audrey, Meg, and Vanessa are trapped in a room and arguing it out. Meg insists Audrey told her Vanessa was voting against her last week. Audrey did say this, but is now denying. Vanessa wants to use this as a reason to keep Audrey.
It's a huge blowout and Audrey doesn't catch on to Vanessa's attempts to help her out in the argument. Things flop and flail as Meg starts crying then yelling and Audrey starts crying and yelling. Glorious Feeds o' Drama again today.

You'll really need to watch it all, but now the "other side" knows what Vanessa is doing and that Audrey won't be renom'd. Panic time for James, right? We'll have to keep watching to see who wins the Power of Veto. Spoilers soon so stick with us on Facebook, Twitter, and by Email!