All season we've watched as Big Brother Houseguest Vanessa Rousso navigated the sides of the house while avoiding committing too deeply to one group or the other. Now at Final Five she will have to make that choice and split up a remaining alliance.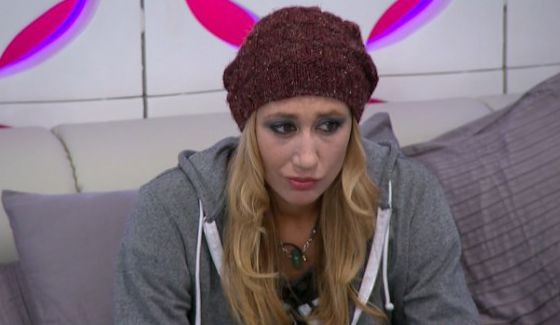 Caught between two sides with a showmance on one and a makeshift duo on the other Vanessa is now forced to choose between them as she prepares to make a big decision this week.
Vanessa is the new HoH and nominations have likely taken place inside the house, but we won't know until the Feeds return much later tonight. Leading up to the meeting we were able to listen in as Vanessa prepared what she would say to the house.
Flashback to 9:46 AM BBT 9/11 as Vanessa practices her upcoming Nomination Ceremony speech where we expect she will put John and Steve on the Block.
I can't tell you how tough this decision is. Coming in to this HoH I thought…

I never thought in a million years I'd consider going to Final Four with a known showmance and I started to think about the evidence I had before me and I soon realized that… I'm a fool to think that… [Restart]

It's no secret that I'm in Final Five with two very strong duos. I've got a showmance on one side and I've got the Rockstars on the other. Steve and John, although you may not have a romance between you I feel that effectively I'm dealing with the same thing because I know when it comes down to it you're always going to take each other to the finals over me if not out of loyalty then simply out of incentives…

Everybody at this table is a friend of mine… [inaudibles]
Vanessa trails off there, mumbles a few more lines, and then the Feeds cut.
It's seems odd to consider a bond between John and Steve to be stronger than Austin and Liz, but it's possible Vanessa would lose the "who to take?" choice to either of them in a given situation. Here she does seem to be taking the risk of sticking it out with the showmance of Austin and Liz. Or heck, maybe she's setting up a smokescreen to see if she can take a surefire shot at the showmance but settling for the Rockstars as her backup.
I would have thought she'd have an easier time flipping John against Steve or vice versa than convincing Liz to go against Austin. Austin has said that if he, Liz, and Vanessa end up in the F3 that he doesn't want to have to make the decision and would throw it to Vanessa and Liz to decide. That would tell me that if he's forced in to the choice then he might feel obligated to take Liz, not Vanessa. Meanwhile John has told Vanessa he doesn't want to go to the end with Steve since the Jurors like Steve more than they like John and he thinks his chances are better against her. So, um. Yeah.
What would you do? Target Austin and Liz in this round or go against John and Steve? One side must be split up. We'll know more tonight, but in the meantime what would you do? Cast your vote in our poll below and then share your thoughts while we wait for the Feeds to return.