We've seen a lot of deal making and strategy talk with Vanessa Rousso this week as the surviving HoH on Big Brother 17. Overnight she made one more and this one's supposedly to the end.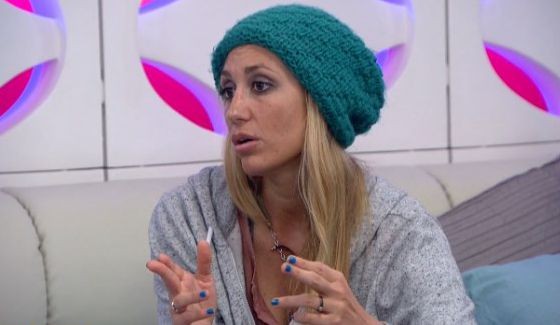 Late at night Vanessa sat down with her ally Audrey Middleton and pushed aside all their past differences (See: Week 1) to make an offer that would override all these other group alliances and agreements she has built up with half the house.
Flashback on your Live Feeds (start watching with a Free Trial to discover more Big Brother) to 2:14AM BBT 7/14 Cams 1/2. Vanessa and Audrey are alone in the HoH room and start going through their current arrangement. Vanessa thinks if they stick together they can make it all the way to the end as a Final Two. She offers a ladies version of BB2's Chilltown. Audrey is excited about this idea and accepts.
Both Audrey and Vanessa realize they're partnering up with showmance-ish couples in Chelli and Liz/Julia/Austin though I really wouldn't count the latter with Austin in there and without him they're only sisters. Though I'd be more worried about sisters than I would Chelli.
As for who they'd want to get to the end with, Vanessa tosses out Jason as one option but Audrey doesn't think he'd work with them. Then there's James, but Vanessa detests James and Audrey knows he's a competitor even if he did muck up that BotB comp.
Vanessa worries that if it got to the end with her and Audrey in a F3 then there'd be a temptation to cut the other and head to an easier F2. Audrey promises this wouldn't be the case. Vanessa suggests a F3 companion like Austin would be better because then neither would be tempted to take him. Hmm, that makes me think Vanessa might be hiding something on that plan.
Actually, the whole thing has me wondering how honest Vanessa is about this. She had a very bad very week with Audrey over the whole "ladies alliance" rumor and yet here she is telling everyone she can't possibly imagine targeting her since they're both part of the LGBT community. It seems like a cover and part of her "we've got to rehabilitate your image" plan, but we'll just have to see where it goes.
What do you think of the chances Ladies Chilltown can survive to F3 much less F2? Couldn't they both be topping a lot of target lists starting Thursday night?