The Big Brother 17 houseguests didn't waste anytime getting into the drama. It's only the fourth episode and we've already got backdoor plans, fighting and alliances blowing up.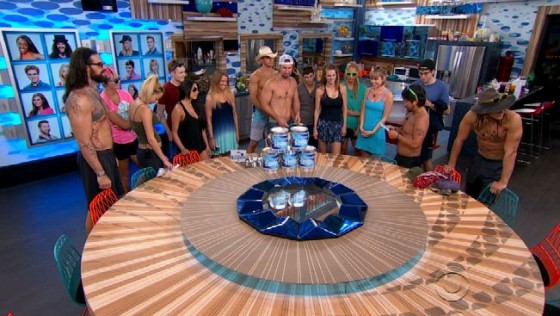 The episode picks up right after the Battle of The Block competition. Steve is upset that he and Becky are the official nominees. Of course there's still the Power of Veto and the backdoor Jace plan in motion. So Steve seemingly has nothing to worry about.
Speaking of the backdoor Jace plan, James and his core alliance are on board, so it's time for them to start rounding up enough votes to get Jace out the door. James has Jason, Audrey and Da'Vonne so he goes to Meg next and then Clay. And not only is this a group to target Jace, it becomes and official alliance. But like Da'Vonne tells us in her diary room "no, not gonna last."
Elsewhere, Jace isn't doing himself any favors. He's on a lot of people's nerves and even what he tries to do to amuse the others (like streaking through the back yard) just doesn't work. Jace is toast not matter how hard he tries.
It's time to pick veto players. Joining James, Steve and Jackie in the veto competition are Becky, John and Jason. So No Jace or no Austin. So that backdoor Jace plan is one step closer.
Argument alert: We've got Da'Vonne vs. Jeff vs. Clay. Day was innocently walking about the house counting items for a possible future competition and Clay and Jeff over-react with suspicion and it blows up into an actual argument. Day also overreacts and we've got our first battle of the season. Yeah, Da'Vonne is right — that alliance is never going to work out.
As if there wasn't enough drama in the house, James has to pick the first four people to be Have-Nots. He picks Austin, Liz, Vanessa and Day. So it's all slop all week and they have to sleep in dentist chairs.
At the veto competition, we've got the seasonal spelling competition. Only this season, they have to dig for gold in giant nostrils. Oh, Big Brother, who do you let design these competitions. So who passes the spelling test this season? First let's talk about who FAILED the spelling test this season.
James spelled "lifeguards" for 8 points. Becky spelled "closest" for 7 points. Jason spelled "zones" for 6 points. Jackie spelled "judge" for 6 points. John spelled "boogers" 7 points. Steve spelled "trombonists" for 12 points and the veto win.
Let's get back to the house drama. Audrey decides to pull Shelli up to the HOH room with James and Jason. Then she goes and grabs Jeff. So James and Jason aren't very happy that Audrey is just randomly pulling people into their alliance. And she's not done. She goes to get Clay and Meg. And keep in mind it's 5 a.m.
So Audrey's got everyone together except one person: Da'Vonne. Audrey thinks she's doing some good thing for herself and the alliance, but all it's doing is sketching people out. James even mentions the possibility of putting her up as the replacement nominee if she doesn't watch out.
At the veto meeting, Steve uses the veto on himself and James executes the house plan by naming Jace as the replacement nominee. So either Jace or Jackie will be evicted Thursday night. Who do you think it's going to be?
Click images to view larger