Sunday gave us the penultimate episode of Big Brother 17 which means the next time we see Liz, Steve and Vanessa, one of them will be winning $500,000.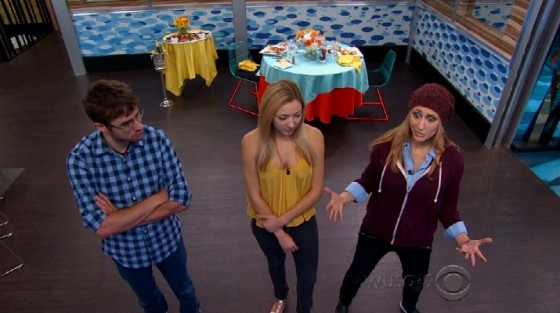 The episode picks up right after Johnny Mac's second eviction. We find Vanessa, Liz and Steve popping some champagne while Vanessa lets us know that she feels like she's in a very good spot. And Liz is also feeling good because of "girl power" and all. But so does Steve. So everyone thinks they're getting to the end. This is all because Vanessa is still playing the same way she's played all season.
It's time for the really annoying and scripted trip down memory lane. Up first is the twin twist. We get to again see Mama Day and Jason bust the twist (and in turn spread gossip instead of using it as an advantage in the game).
Up next is a look back at the fights this season. And who is the common bond in all of these fights? VANESSA. It's actually even more eye-opening to see this all in the same place. Like, we knew Vanessa was behind all the fights, but this memory lane episode is a great reminder. And it also reminds us that a person who started all of those fights shouldn't be sitting in the final three. So the fact that she is is proof that she should probably win this game (if she makes it to the final two).
Showmance segment alert. As if we didn't see enough of "Liztin" all summer we've got to suffer through an entire segment. Luckily they didn't remind us of those cringe-worthy beneath-the-sheets moments. Good ole Beauty and the Beast. Next.
And now for some people we all like: James and Meg and their hilarious "nomance." Meg and James were definitely the most entertaining pair in the game. There was never a dull moment with those two and James trying to mack on Meg, so thanks BB for letting following up Liztin with Meg and James.
We also get a look at Steve and Johnny Mac's nerdmance and then the look at our Ken and Barbie showmance Clelli. But sorry, my favorite is still Meg and James' nomance.
Oh wait, there's one more fight from the season they've got to talk about and that's James vs. Clay. BUT WAIT. Who started that fight? Vanessa of course. Yep, she's definitely responsible for all of the fights this season.
The rest of the flashbacks include Becky's train accident, Clay's mumbling, Audrey's story and Audrey's game downfall (which also included Vanessa), James' practical jokes and the Whackstreet Boys.
It's finally time to start Part 1 of the final Head of Household competition. Vanessa, Liz and Steve will find themselves swinging on giant apples that will dip them into liquid candy and smash them into walls in a battle of endurance. And we get to see about 15 seconds of that and the episode ends. So we'll see you Wednesday at 9:30 PM EST.
Can't wait for the spoilers? Find out who won Round One and who won Round Two of the Final HoH.