Julie Chen is back at the Big Brother 17 house with part two of the 2015 season premiere tonight on CBS following last night's arrival of the first eight Houseguests. It's time to find out what else they have in store on Big Brother.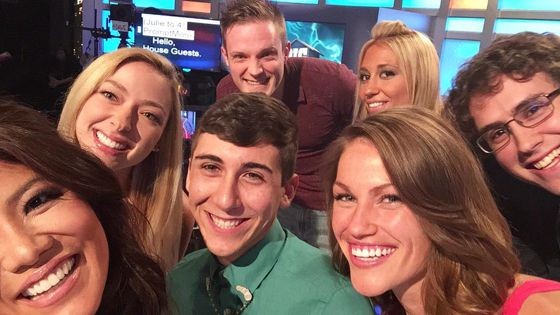 Battle of the Block is back and that means we'll need a second Head of Household to rule beside James Huling, the first HoH of the season. We'll discover who wins the second part of the HoH comp along with the bigger question of just how many HGs will be entering the house.
Yes, we met 8 of the 14 Houseguests last night but why the uneven arrivals especially when the HoH comp was only made to support 7 at once? Could be a twist or surprise coming our way. I'm still expecting two more and we're about to find out.
Speaking of twists, we'll get more on the Twin Twist with who we expect to be Liz Nolan and her sister Julia. But remember, they don't have to go undetected, they just have to avoid eviction for five rounds for them to play the game together side by side. Think they can do it?
When the episode ends tonight on the west coast the Live Feeds will launch and the Houseguests will be in front of our happy little faces starting right around 9PM PT (12AM ET). To watch inside the house you'll need your All Access subscription up and running so do that now and be ready to go.
Bonus!: Feeds went live for about ten minutes just a bit ago and we saw lots of Houseguests & some early surprise details! Very, very cool. Flashback to 4:33PM BBT to see for yourself.

click images to see full-size views


We're getting the Houseguest intros now with Liz, Jason, John, Vanessa, Becky, and Steve. Lots of fun folks in this group and they're about to meet the rest of the house. Julie tells them they're late to the party along with the other two twists so far.
HGs split in to two groups: Liz Nolan, Becky Burgess, & Steve Moses followed by Vanessa Rousso, John McGuire, & Jason Roy. The first batch of HGs are waiting there to meet and greet them. Lots of cheers and hugs all around.
Everyone gathers at the dining table to go around and do a full set of introductions. Once they're done HGs start questioning the two empty seats at the table. They know to expect two final players coming they're way and here they come. Julie welcomes out Phil Keoghan, the host of Amazing Race. He introduces Jackie & Jeff as the final two HGs and they head on in.
Time for the second Head of Household to be crowned. Everyone gathers for the next comp and once again we have one person needing to sit out. Vanessa volunteers and the other seven prepare for battle.
The comp is called "UFOh No!" just as we knew it would be. The players will be hanging to posts in the ground as tension cables hooked to harnesses are trying to pull them up in to the sky. The design is pretty good but reminiscent of BBCAN2's cable pull comp.
It's been going awhile but no one is budging. Wait. Here goes Steve getting slowly sucked away… and he's gone! After a quick probing the aliens drop him back in the haystack and he's out of the comp. There goes Jeff who says he threw it. John is about to go next. Yep. That leaves Jason, Becky, Liz, and Jackie are left trying to win. Wait, there goes Becky and Liz.
It all comes down to Jason and Jackie, but Jackie is just a nudge from being pulled off the poll while Jason has a solid grip at the bottom. Jason promises Jackie he won't put her up if she gives up and it's a deal she wants. Jason wins HoH.
That's it for tonight but there's more Big Brother coming up. Sundays 8/7c, Wednesday 8/7c, and Thursdays 9/8c. No resolution to the Twins Twist, though we know that's gotta be Liz & her twin Julia. But wait, Phil returns to tell Da'Vonne & Vanessa their risk of sitting out may offer a reward, but then bails before saying anything else.
Okay, Feeds & BBAD launch at 9PM PT (12AM ET) so you know what to do! Get signed up:



Join us on Facebook, Twitter, and by Email Updates for even more Big Brother 17 all summer!